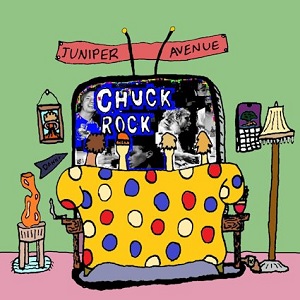 17 June 2023
Chuck Rock is the latest album from North Carolina's Juniper Avenue, and as much as it still captures the youth of the band, it finds the quartet developing their craft by leaps and bounds. Equal parts garage and punk, the band's sound is also augmented with hints of surf and 90s alt rock, with a keen pop sensibility bubbling under the surface at all times. Recorded in just a week, the album often sounds like Juniper Avenue is playing a twelve song setlist live. Consequently, the results are at times ramshackle or sloppy, but it all adds to the charm, energy, and spontaneity of the proceedings.
The record begins with "Everything Must Go" a blast of poppy garage snarl, but the band quickly branches out with the slightly funky title track "Chunk Rock'' and the pure powerpop melodrama of "Self and Pity Doubt." The band keep up this breakneck pace for the entire running time, never slowing down for a moment of navel gazing introspection, and it ends quite literally not with a whimper but a bang on the epic climactic closer "Bang!" There's something about the band's sound that calls to mind the garage punk scene of ten years ago with labels like 1-2-3-4 Go! or Burger, and that lighthearted fun actually feels like something music has been needing once again.
A coming-of-age album, Chuck Rock is the work of a group still growing, and it's a fantastic snapshot of a moment in time, while the band purposely plays down the album's remarkable merits at every corner.