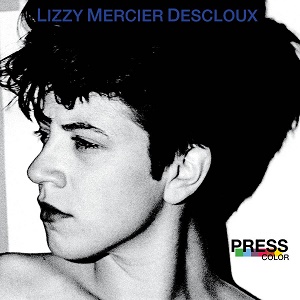 13 August 2015
Tragically forgotten to the passing of time, French transplant Lizzy Mercier Descloux blossomed in the late '70s downtown New York art/punk scene amid friends like Patti Smith and Richard Hell. After over thirty-five years, her post-punk/no wave debut solo album sees its first proper domestic reissue since its original 1979 release.
Press Color twists, turns, dives and zips with a genuine artistic integrity borne from the pure desire to create. The opening "Fire" transforms The Crazy World of Arthur Brown's 1968 hit into a funky hi-nrg frolic, setting the tone for her wildly unpredictable songs, which range from Slits dub punk to ESG's disco drive, coupled with Public Image Ltd.'s disjointed approach and Brigitte Fontaine's eccentricity. In addition to the original LP, the entire eponymous EP by Descloux's minimalist no wave duo, Rosa Yemen, also appears. On these tracks, recorded with guitarist D.J. Banes, Lizzy's darkness truly shines with the detached angst of DNA and Teenage Jesus and the Jerks. It all culminates with the Bill Laswell produced "Morning High," a striking collaboration with Patti Smith in which they simultaneously deliver Arthur Rimbaud's "Matinée D'Ivresse" in their respective languages.
Though it didn't sell well when it was first released, this reissue should finally bring Press Color out of obscurity and into the filthy street light from which it was conceived. May Lizzy Mercier Descloux's memory finally be fully realized.