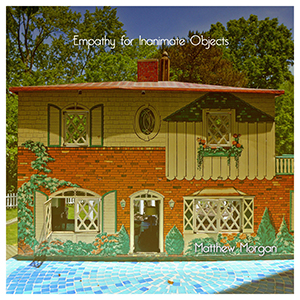 4 June 2015
Singer-songwriter Matthew Morgan may be from Chicago, but he sounds much more like he was born and raised in the Deep South or on the plains of Canada. On Morgan's new EP, Empathy for Inanimate Objects, his woodsy picking style brings to mind Neil Young's early 70's recordings, and his own tenor voice suggests Young was obviously a major guiding force for Morgan musically.
The most surprising addition here is a cover of "Hold On I'm Comin'," originally made famous by *Sam & Dave." The song is so completely overhauled and reinvented, it could almost be considered an original. The mood is moodier and darker than the original, and as quirky as a choice as it is, it works in a strangely magnificent way.
Elsewhere, songs like "SticksNStones" and "Lost At Sea" detail the story of a narrator who remains cautiously optimistic in spite of everything he has seen and been through. But for all of the guarded hopefulness, the EP ends with "When You're Gone," arguably the saddest song here, as if this were all an exercise in lying. The optimism wasn't enough to sustain an entire song cycle, and by the end the bitter truth is revealed.
Empathy for Inanimate Objects, is a poignant and heartfelt work by a deeply personal artist, and if you are like him in melancholic mindset, loving this EP will come naturally for you.