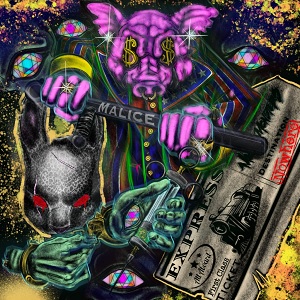 10 June 2023
The Bay Area's Modern Monsters aim to bring back hard rock to its core. However, on their latest EP, Malice, a return to roots doesn't equate at all with dumb party anthems as the band rages against social injustices and inequality with a sound influenced by the likes of Alice in Chains and Faith No More. Modern Monsters are as unrelenting in their ethos as they are with their riff-heavy sonic assaults, and the overall effect is one of united fury and intention.
The opening track "March 3rd, '91" is ostensibly about the Rodney King beating by the LAPD, and it sets a suitably menacing, strident tone for the rest of the EP. The group loudly proclaims their views and they wear these beliefs proudly on their sleeves. There is still fun to be had, however, and of particular note is a cover of Jefferson Airplane's "White Rabbit." It actually begins somewhat faithfully before ramping up in intensity and exploding into both punk and metal territories.
Malice marks a major step forward, in both songwriting and production from previous releases, but most importantly it represents a fantastically cohesive statement from a band unequivocally finding their voice.