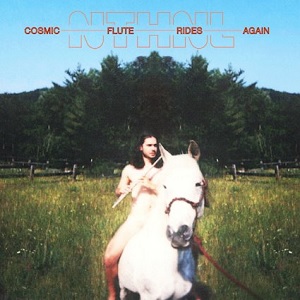 3 April 2023
Cosmic Flute Rides Again is the new album from Brooklyn-based musician NTHNL, and it's safe to say, judging from the title and album artwork alone, that you'd be hard pressed to find a more out there idea for a sonic combination this year. NTHNL, wishing to uplift the status of the flute in pop music, takes the instrument in a smooth jazz setting and overlays it on top of electropop and house beats. The pop star Lizzo has already been introducing the flute into her own performances, so it's difficult to say how successful this mission will ever be, but once you cast aside the novelty of the idea, Cosmic Flute Rides Again is a surprisingly compelling artistic statement.
Ignoring initial suspicions, you'll find that NTHNL does actually achieve his goal, and songs like "Neon Flow" and "Our Secret" are, at the core, fantastic pop songs. The flute melodies find a way to burrow themselves into your brain and refuse to leave. It's possible the concept could be buoyed by the inclusion of occasional vocals, but the fact remains that NTHNL has seemingly executed the impossible. Tracks like "Nico's Exorcism Dance" and "Digital Exposure" are more challenging than they are easy listening, but the vast majority of the songs here are undeniably catchy.
At the end of the day, Cosmic Flute Rides Again is a great pop record that manages to stay interesting and exciting throughout the entire duration without once growing tired or repetitive.