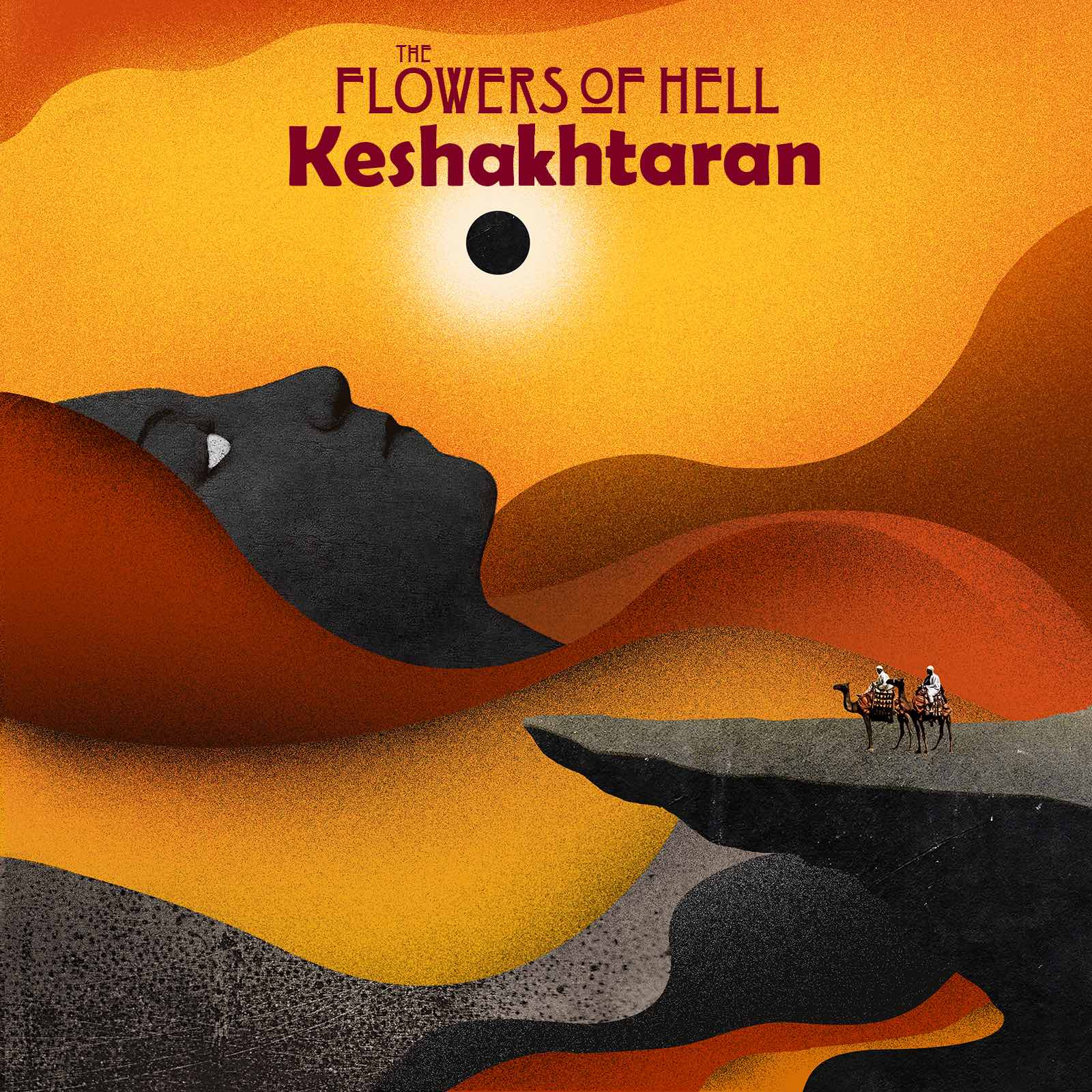 5 April 2023
Anything described as a 16-piece, trans-Atlantic, space-rock orchestra, as The Flowers of Hell are, is undoubtedly something that any discerning music lover and inquisitive music writer will want to explore. Don't you think? I do. So I am.
Sitting somewhere between the free jazz adventures of the likes of Sun Ra and the soundtrack to the desert depicted on the cover, between ambiance and sonic adventure, Keshakhtaran is a gorgeously spacious and drifting suite of ever-evolving, constantly unfolding music, taking in everything from classical to new age, jazz, to psychedelic to ambient music. But if the name Keshakhtaran and the image it is packaged in might suggest arabesque and exotic adventures, it is worth noting that the word is used to describe the situation where you reach the level of nirvana through primordial sound meditation. This small nugget of knowledge is the key to understanding the album.
It explains the gentle tones and languid textures. It explains why the album is essentially one continuous track. It explains why the album is in no hurry to reach any particular point or place. This is an album that is about the journey, not the arrival.
Keshakhtaran is built from a wonderful weave of sounds – sax, flugelhorn, chimes, harp, sitar, and opera soprano vocals, are joined with tremolos, flutters, horns, woodwinds, strings, and percussion to create a truly cinematic sound, one which seems as much an aid to meditation and understanding as it is entertainment. Sounds ebb and flow across this desert landscape of the mind, sometimes rising into gentle sonic peaks, sometimes falling back into near silence.
And in the absence of direct lyrical communication, the listener is left to wander freely, explore and interpret the music, and draw their own conclusions as to what it all means, and more specifically, what it all means to them as an individual. The power of such free-form and untethered music is that it goes beyond what those creating the music might intend and only has any real meaning when experienced by the individual listener. In this way, it is essentially an infinite number of conversations all taking place simultaneously. All different. All equally as relevant.
Band leader Greg Jarvis' reputation is such that plenty of the great and good of experimental and avant-garde music answered his call for collaboration. Rishi Dhir of Elephant Stone, Beck, and Brian Jonestown Massacre can be found on sitar, with Montreal harpist Sarah Pagé and accordion legend Angel Corpus Christi also in the ranks.
The full Keshakhtaran LP will be released digitally on May 12th. The vinyl LP (including an inserted bonus CD featuring a reworking of the piece by Sonic Boom) will follow in late 2023.
Keshakhtaran album order / Bandcamp
Spotify
Soundcloud
Odes LP
Spotify