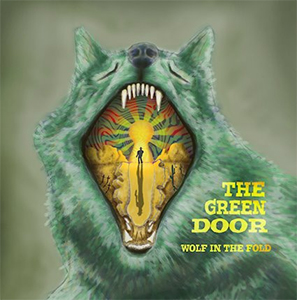 16 January 2018
After a couple of years, San Francisco's The Green Door and their self-described "Western garage rock" are back with a new release. This new EP Wolf In The Fold expands upon the band's sun-baked psychedelica that is, at its core, indebted to garage pioneers like The 13th Floor Elevators and the Spaghetti Western scores of composer Ennio Morricone. Since their debut The Green Door, the group has moved from merely replicating the sounds of their heroes to adding to the very vocabulary of the genre, or at the very least uncovering elements which had previously been long dormant.
There's stiff competition for The Green Door, as San Francisco in recent years as been one of the centers of quality garage rock, but the group has successfully staked out their own territory with songs like the riff-heavy title track "Wolf In The Fold," and the acid alt-country of others like "Back to Huston." There lingers an occasional pull toward full-blooded psychedelia ("You Won't Hear That Anymore" comes closest to fulfilling this desire), but The Green Door thankfully stays closer to the Nick Cave side of the genre.
Wolf In The Fold, in fantastic, explosive pulsations, hearkens back to the rawer, unbridled history of the Wild West—a history which is in many ways fabricated, and in doing so the band's music adds to this mythologizing.