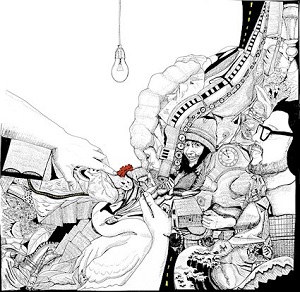 16 July 2023
It's been five years since Canadian singer-songwriter Wes McClintock released his previous solo album No Service, and his new release Open Dream is a massive departure for the artist, focusing more on electronica than ever before. Clearly a lot has also happened in the world since 2018, and the COVID pandemic was a unique opportunity for McClintock to flourish artistically, creating his most ambitious work yet. With album artwork that has a slight resemblance to Kate Bush's Never for Ever and its collage of fantastic imagery, Open Dream also shares with Bush's work a certain sense of imagination running free.
Whereas McClintock previously showed a clear influence from Pink Floyd, there's a disco/funk sound here reminiscent of Chic or Daft Punk, especially on the insanely catchy single "Falling." There's also plenty of art rock here with the emotional emphasis of Peter Gabriel on tracks like the austere "Imaginary Songs" and the fittingly dreamy title track "Open Dream." The album ends on a high note, first with the Bowie plastic soul of "A Different Kind of Same" and finally "Sand," an ambient instrumental a la Brian Eno.
A lot of minimalistic lo-fi bedroom pop has emerged since 2020, for better or for worse, but Open Dream is a massive and challenging exploration of an artist pushing his own boundaries as well as a clear love letter to the possibilities of music.