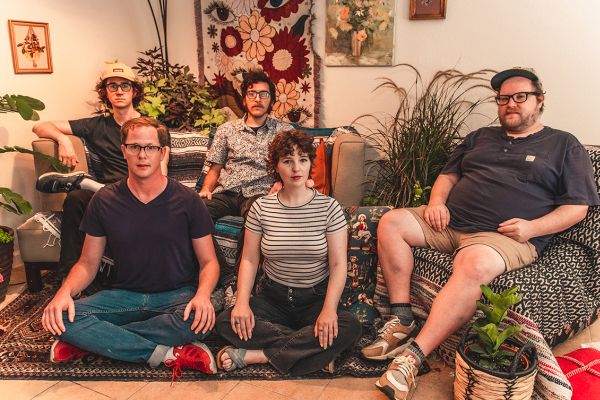 Austin, TX-based psych-pop singer-songwriter Matthew Squires delves into a few of his favorite things...
Matthew Squires and The Learning Disorders – Photo Credit: Kate Blaising
Matthew Squires, along with his longtime band The Learning Disorders, have a new album coming out on the 21st of October. It's called The Electric River. Like lo-fi masters Daniel Johnston and John Darnielle before him, Squires can spin the most original of yarns, all while sounding like he has no idea he's being recorded.
Check out the music video for the single "The Life of Trees":
Matthew Squires took some time out of his busy schedule to gather and write about his Top 10 Songs:
"These are a few of my favorite things…"
"Passing Through" – Leonard Cohen
"It's always hard for me to choose my favorite Leonard Cohen song, because every time I hear any of them, I think it's my favorite song ever written. I chose this one just because a) I love it and b) it only appears on this live album, and his performance is just delightful. The airy and spontaneous side of him is hard to capture on a studio album."
"Don't Worry About Me" by Space Tan
"Many members of my band on this record are in this band called Space Tan that I love a lot. They're working on a new album, but this is from their last album."
"Pervert's Guide To Ideology" – Slavoj Zizek
"Zizek has done a lot to help me navigate the contemporary moment, and I think this is a great entry point to get into his work. This is a well made documentary wherein Zizek analyzes the ideology underneath various films through his Hegelian/Marxist lens."
"The Inside Outtakes" – Bo Burnham
"I really haven't seen anything besides Bo Burnham's "Inside" that came out of the pandemic, which I think rightfully falls under the category of great art. This was a really interesting followup to it that came out a few months ago. I would definitely recommend watching Inside first, though."
"Everything That Rises Must Converge" by Flannery O'Connor
"Flannery O'Connor beautifully plumbs the dark recesses of the soul of the American South."
"The Fly Joke" – Norm Macdonald on Conan
"This appearance on Conan demonstrates the peculiar genius of Norm Macdonald. The use of Russian names as well as the theme of ennui he sews into this absurd and ironic yarn are a product of his love for Russian literature. He had a good ability to weave these somewhat lofty philosophical influences into his comedy without seeming like he was showing off. I just think he was the greatest comedian of his generation."
"The World of Tomorrow" by Don Hertzfeldt
"This is one of my favorite movies of all time and it's only about 15 minutes long. Don Hertzfeldt's first popular short animated film was "Rejected" It was nominated for an Oscar when Oscars still meant something and the clip from it where the two strange stick figures say "My spoon is too big" got passed around in the early days of the Internet before "viral" was a thing. I think that the style of humor he fleshed out in Rejected went on to really inform a lot of animation in the 2000s, paving the way for Adult Swim, for instance. I recommend to people who have only been exposed to that clip (and Gen Z people who don't even know what I'm talking about), to check out the rest of his work. He somehow takes short animation to a level of cinema I really have only found in Kubrick's work. This movie, "The World of Tomorrow" is a very surreal and heady mix of humor and poignancy and existential horror and deep humanity."
"Bitches Brew" – Miles Davis
"This album requires headphones for full effect. The panning is insane."
"Hey" – The Pixies
"There is no cooler song."
"I Sing The Body Electric" – Walt Whitman
"Similar to the songs of Leonard Cohen, it's hard for me to pick my absolute favorite Walt Whitman poem, but this is one of my favorites. Walt Whitman is my favorite poet because in spite of the many criticisms I have of American empire, the dream of American consciousness that he articulates will always shake and inspire me."