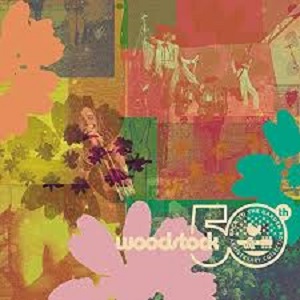 Nostalgia always sells, and it provides opportunities for record companies to open the vaults at a time of anniversaries or simply when the need is there to haul in some extra bills. Although, sometimes they can provide something mouthwatering, so spectacular that in the century of streaming you are compelled to grab the credit card and blow caution to the wind.
With that in mind I put together a Top-10, in order of preference, of what is due over the coming weeks to be re-released, and in some cases what will be released for the first time. What I would like to purchase as I feel there might be something special within the lavish packaging.
Woodstock 50 – Back to the Garden – The Definitive 50th Anniversary Archive
Due August 2nd via Rhino, this expansive and expensive set is a lavish slice of nostalgia. Boasting 36-Discs and 432 tracks, it is tailor made for those who want to laze on a lawn chair for 3-days and soak up the sounds of the original Woodstock. It's not due until August but included it to give those who are contemplating (me) the hefty purchase, time to save/re-mortgage.
Bob Dylan – The Rolling Thunder Revue: The 1975 Live Recordings
Due June 7th via Columbia Records / Legacy Recordings, this is a monster 14-Cd Box Set, which Includes 5 Complete Bob Dylan Sets From Rolling Thunder Revue Concerts. Spanning October-December first tour leg and includes rehearsal performances and rarities, oh wow!
The Fall – The Fall, Live at Witch Trials 40th Anniversary
Due May 24th via Cherry Red, the overhaul of the late Mark E.Smith's debut release returns in both red-vinyl and 3-Cd box set. Featuring the original release, a disc of singles, and a live show, this is something to get the grizzly teeth into. (I have already pre-ordered this)
The Grateful Dead – Aoxomoxoa 50th Anniversary Edition
Due June 2nd via Rhino, featuring a remaster (yet again!) of The Dead's Classic from 1969, what makes this a release to get worked up about is the inclusion of both the '69 mix and '71 mix done by the band. Adding a new dimension to an old favorite and tagging on an unreleased live show, this is essential for Dead Heads.
B-52's – Cosmic Thing 30th Anniversary
Due June 28th again via Rhino, this deluxe two-disc remaster is released in conjunction with their 40th Anniversary World Tour. The remaster is one disc while a second disc covers B-sides and of course remixes, this could be very interesting, it is, like I'm sure for many, one of the first releases they bought.
Bob Marley And The Wailers – Legend 35
Due 14th of June via Island Records/Marley Family, this is a vinyl only celebration of the biggest reggae selling album of all time (28 million). This time a double 180gm remastered vinyl with two bonus tracks available originally on the cassette-'Easy Skanking' and 'Punky Reggae Party'. It is simply fantastic and one of those records everyone should own.
Joy Division – Unknown Pleasures 40th Anniversary
Due 14th of June via Warner Music, a ruby red vinyl issue which comes in an alternative white-sleeve especially for the fortieth-anniversary. Nothing extra just a change in color, slightly lazy way of honoring a seminal release. Then again, perfection does not need any carrot-dangled bonus tracks.
Pink Floyd – The Division Bell 25th Anniversary Edition
Due 7th of June via Legacy Recordings, this 25th anniversary edition will be available on translucent blue vinyl, which if you remember was the same as the original, limited blue vinyl release in 1994. The original, blue editions go from $100 upwards at present.
Roger Daltrey – The Who's Tommy Orchestral
Due 14th of June via Polydor this release coincides with the 50th Anniversary of The Who's mammoth Tommy. Although the album itself has gotten deluxe issues over the years, Daltrey obviously thought an orchestral version recorded with his backing band in Budapest and Bethel, upstate New York would do it justice. That fact is yet to be seen!
The Rolling Stones – Rock and Roll Circus Box Set
Due 7th of June via ABKCO, it's a slight mystery as to why now this is being released as it was recorded in December '68, sat on a shelf until 1996. However, it's getting a triple-vinyl treatment which includes extras of The Dirty Mac (Eric Clapton, John Lennon, Keith Richards, Mitch Mitchell and erm..Yoko Ono) which for that alone, is worth the admission price.