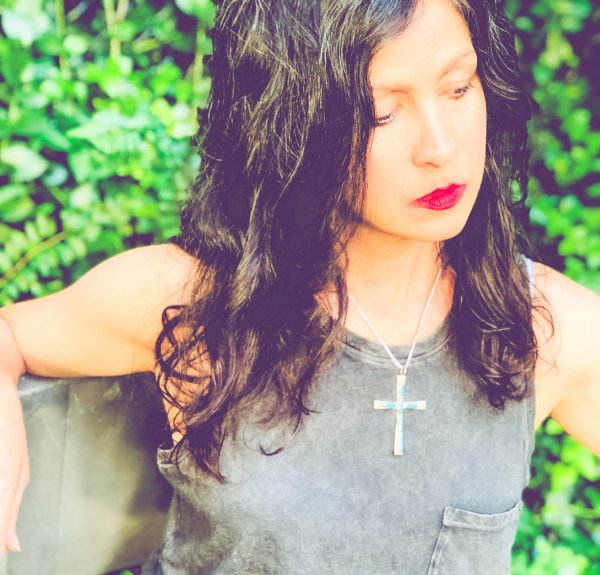 14 August 2018
K Michelle DuBois – Photo Credit: Ally Land
While Athens, GA was a music scene that found the world abuzz several decades ago, thanks to such epic groups as R.E.M., The B-52's and Pylon, Atlanta was also another city with a burgeoning music scene in the 2000s. Earlier, The Big Takeover introduced you to several artists from this city, including Low Valley Hearts,
Nihilist Cheerleader, and Love Letter.
Last year, we also featured Parsons Rocket Project , a project that is directly related to the premiere we bring you today. K Michelle DuBois may have contributed calm and brilliant vocals on these RRP tracks, but there's more to her than that. In October, she'll be releasing her third studio album, called Harness.
A few months out, we bring you the preview the lead single 'Wild Weed'. This is a fine specimen of kaleidoscopic pop-rock of a similar flavor to that dished out by The Breeders on "Canonball", Liz Phair on "Supernova", and Belly on "Feed The Tree". Filled with innocent, good vibes and a sparkling melodic thread, K Michelle DuBois' delivery is striking, found in similar territory as Jenny Lewis and Juliana Hatfield Three. A great new find for eager ears and a superb introduction to her third solo offering.
Her latest album before this was Astral Heart from 2016, having released her debut album Lux Capone in 2012. Based in Atlanta, GA, Dubois' counts Blondie's Autoamerican and Divinyls among her influences, along with Stevie Nicks, Roxy Music, Flaming Lips, Grandaddy, and Fever Ray. DuBois's live band includes Chandler Rentz (drums), Jim Prible (bass), André Griffin (keys), and Dan Dixon (guitar), who also recorded, produced, and mastered this album at RCDC studio in Atlanta.
On Harness, DuBois balances the experimental with her innate talent for distinctive hooks. This is an indie pop-rock gem that is sonic, rustic, and strong on harmonies. Although she remains anchored in hook-laden structures, this album pushes the experimental side of her previous work to new heights.
While most of DuBois' solo output intertwines classic power-pop with '90s college rock, Harness boasts a heftier sonic tone than her previous album Astral Heart with its bouncy rhythms, jangly guitars and sing-song charm.
"To me, Harness is not about taming; it's about recognizing and utilizing all this amazing energy that is radiating. I've been deeply feeling my hippie roots and, at the same time, intrigued by advances in technology. I'm inspired by such stories as Ex Machina and West Word, which both invigorate and produce intense melancholy in me," says K Michelle Dubois.
"Much of this album is like one big pep talk for the ladies (myself included). Even for the A.I. characters – finally finding their freedom, It's like a party, but still there's an underlying sadness. Throughout Harness there's a strong suggestion to celebrate magic, whenever possible."
After forming her first band Ultrababyfat and releasing Silver Tones Smile (1998), the group's infectious pop-punk sound garnered national attention, leading to opening slots for numerous noteworthy acts Pavement and PJ Harvey, and a 2001 stint on The Warped Tour as one of the few female-led bands showcased in the festival's lineup.
After the band disbanded in 2005, DuBois formed Luigi to explore her more progressive, art-rock leanings. After seven years together and ample critical acclaim, she re-emerged as a solo artist under the tempered guidance of producer Ben Price at Studilaroche.
Harness will be released across the main online stores and streaming platforms on October 12. The full album can already be pre-ordered via Bandcamp
Also catch her latest video 'Reckless Needs' (featuring Chris Lopez)"
K MICHELLE DUBOIS
Website
Facebook
Twitter
YouTube
Instagram
SquareUp
Spotify
iTunes