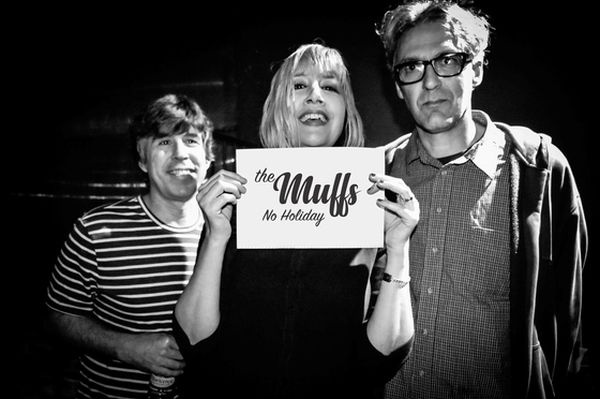 8 October 2019
The Muffs – Photo courtesy of Omnivore Recordings
On October 2nd, 2019 the world lost another renowned music luminary – Southern Californian Kim Shattuck, frontwoman of The Muffs and The Pandoras. She had been fighting a battle against the motor neuron disease ALS.
In the last two years of her life she courageously and determinedly recorded and produced The Muffs' upcoming, and sadly, final album, No Holiday. The LP is jam-packed with new tracks and will see release on October 18th via Omnivore Recordings.
Shattuck had a long and storied music career (a stint as the Pixies' bassist in 2013, guest vocals on NOFX, The Dollyrots, and Bowling for Soup songs, early 2000s side project the Beards, part of punk rockers The Coolies whose new record Uh oh! It's… The Coolies EP came out in July – and so much more), most notably in the following two bands: as bassist and back-up singer in '80s garage/hard rock band The Pandoras, then as singer, guitarist, and songwriter in '90s garage rock/punk band The Muffs.
The irrepressible Shattuck was known for her acerbically gritty punk rock vocals that were also steeped in an enthusiastic sweetness. She unleashed playful howls and tuneful growls with her abraded vocal tone, but wasn't immune to basking in the occasional mellow to melancholic reflection.
Shattuck was equally admired for her undeniable talent and passion for her craft, as well as for her feisty, but friendly personality.
The Muffs' music mixed crunchy, fuzzed-up garage rock 'n' roll dynamics and punk attitude with charming, sing-song power pop melodics. It was a winning combination that gained the band recognition in the alt-rock '90s and a brush with fame when they covered '80s pop star Kim Wilde's track "Kids in America" for director Amy Heckerling's 1995 film Clueless.
In a rock music landscape that was (and still is!) lorded over by men, Shattuck was at the forefront of a mighty wave of women who also ruled the realm.
On a personal note, starting in the '90s I tuned in to the indie/alternative rock substream and was swept away by Shattuck and her contemporaries at the time: the too-cool Kim Gordon, fiery Kat B'jelland, scrappy Kathleen Hanna, the no-frills women of L7, winsome Juliana Hatfield, nervy Kristin Hersh, and even the controversial Courtney Love (pre- Kurt Cobain association).
Shattuck was especially a favorite of mine – an exuberant rocker lit by an incandescent spark and exhibiting a sunny disposition. Her scuffed-up, but buoyant vocal delivery brought – and still brings – joy to the heart and a smile to the lips of each and every listener.
Kim Shattuck is dearly missed.
Omnivore Recordings statement: "All of us at Omnivore Recordings are devastated by the loss of our friend Kim Shattuck of The Muffs. We're thinking about all her friends and fans, especially her family and bandmates. Her creative fire will endure and inspire artists of tomorrow. We're so grateful to have been in the audience and to have played a small part in getting more of her music out into the world."
Roy McDonald (drummer) and Ronnie Barnett (bassist) of The Muffs: "We are very sorry to announce the passing of our bandmate and dear friend Kim Shattuck. Besides being a brilliant songwriter, rocking guitarist and singer/screamer extrordinaire, Kim was a true force of nature. While battling ALS, Kim produced our last album, overseeing every part of the record from tracking to artwork. She was our best friend and playing her songs was an honor. Goodbye Kimba. We love you more than we could ever say."
According to news reports (Variety, The Los Angeles Times), Shattuck's husband, Kevin Sutherland, posted a statement on his private Instagram after her passing, which read in part: "She will live with all of us through her music, our shared memories and in her fierce, creative spirit."
The Big Takeover online has had the good fortune to support The Muffs twice over the years, with the premiere of the demo version of "The Best Time Around" from the reissue of Happy Birthday To Me, and just this past September, the premiere of "To That Funny Place", a new track off of No Holiday. That premiere also contains information about the album and quotes from all of the band members.
The Muffs' albums: The Muffs (1993), Blonder and Blonder (1995), Happy Birthday To Me (1997), Alert Today, Alive Tomorrow (1997), Really Really Happy (2004), Whoop Dee Doo (2014), No Holiday (2019)
Pre-Order No Holiday