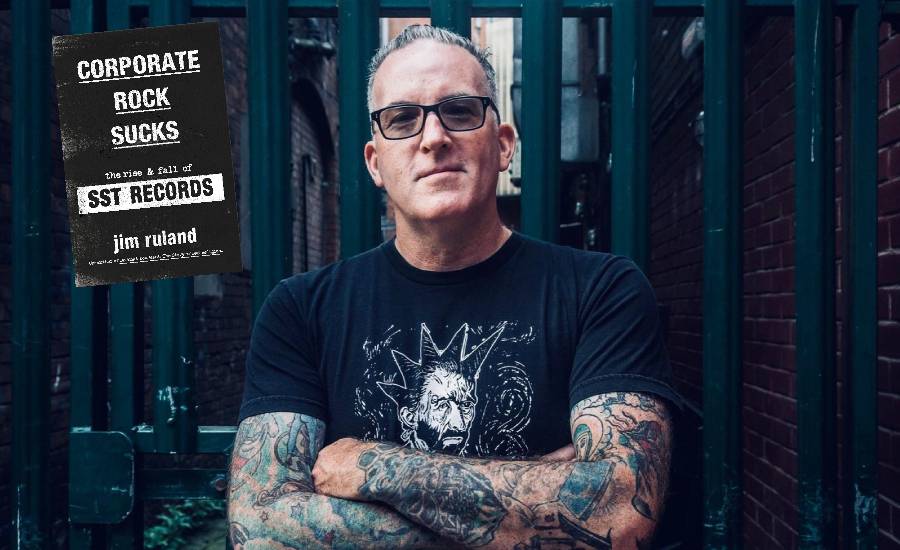 11 April 2022
It's impossible to have a serious discussion about the history of punk rock without mentioning SST Records. Founded by Black Flag guitarist Greg Ginn in Hermosa Beach in the late '70s, SST came to define the DIY ethic that dominated west coast punk and hardcore in the first half of the '80s with bands like Minutemen, Saccharine Trust and Hüsker Dü, and helped lay the groundwork for the alternative rock revolution of the late '80s with bands like Sonic Youth, Dinosaur Jr. and Meat Puppets. Although SST Records managed to break into mainstream consciousness with a few of their releases, the label never lost its experimental (and often confrontational) approach with bands like Würm, Negativland, St. Vitus. and the entire back half of Black Flag's catalog.
Over the years, SST (and Ginn himself) developed a contentious legacy that continues to be discussed in books, articles, podcasts and fan forums 30+ later, but nobody had ever tried to distill the label's backstory into a comprehensive narrative until now. With the release of Corporate Rock Sucks: The Rise and Fall of SST Records (Hachette Books—April 12, 2022), author Jim Ruland takes a deep dive into the label's complicated mythology with eye-opening insights and reflections from many of the key players. I caught up with Ruland—who also co-wrote My Damage and Do What You Want —by email to discuss his highly-anticipated new book.

S.W. Lauden: As a punk fan, what was your introduction to

SST

Records?
Jim Ruland:
I grew up in the Northern Virginia suburbs of Washington, D.C. and I didn't start getting into SoCal punk and hardcore until I joined the Navy after high school and was stationed in San Diego in 1986. By the time I got out and started writing for punk zines
SST
was on the decline and I was into music that was more underground. By then CDs were the medium of choice. So I never had that experience of sending off for
SST
Records and getting them in the mail. It wasn't until around 1999 when I moved to Manhattan Beach that I became interested in
SST
. The South Bay was so different from the rest of LA and I was intrigued by its role in punk and hardcore history. It also didn't hurt that the infamous
Black Flag
show at Polliwog Park in Manhattan Beach was held on July 22—my birthday. Around that time I realized I had a bunch of
SST
bands in my collection of tapes and CDs:
Minutemen
's
Double Nickels on the Dime
, Black Flag's
Family Man
,
Sonic Youth
's
Sister
,
Negativland
's
Escape from Noise
.
SWL

:
What bands/albums most surprised you once you dug into the

SST

catalog?
JR:
OXBOW
's
Serenade in Red
kind of blew my mind. I've never heard anything like them before or since.
The Blind Idiot God
self-titled debut is another out-of-the-box ripper. As much as I love Negativland, I was surprised by how well
Escape from Noise
holds up. Sounds just as fresh and transgressive today as it did thirty years ago.
SWL

:
If you were introducing somebody to

SST

Records for the first time in 2022—what one album would you recommend?
JR:
Saint Vitus'
debut self-titled album. That's the album that reveals how stubborn, contrarian, and forward thinking
Greg Ginn
could be. Most people associate
SST
with Black Flag—and rightly so. Black Flag is ground zero for American hardcore. Saint Vitus wasn't punk. They were a metal band. A slow and sludgy metal band with songs that were eight and nine minutes long.
SWL

:
Any albums you'd recommend they avoid?
JR:
Absolutely not. One of the best things about
SST
is it took chances on bands even if the potential for commercial success was virtually nonexistent. There are some really weird and wonderful records waiting to be discovered. Who am I to say what will or won't suit your taste? Do you like instrumental music? Improvised arrangements? Spoken word? Drum sequencers? The spooky sci-fi sounds of the theremin? Well, you're in luck because it's all out there waiting for you.
SWL

:
When did you first have the idea to write a definitive book about

SST

Records?
JR:
First of all, it wasn't my idea. An indie publisher came to me with the project and I thought it was a bad idea because so many people I respect have had bad dealings with the label. Sitting at the top of that list is my friend
Keith Morris
. So I asked him what he thought about the project and his answer surprised me. He more or less said, "Go for it!" I figured if he could separate the label from the owner, then I could as well. Things didn't work out with the indie outfit so we took the project to the editorial team I'd worked with on
My Damage
and
Do What You Want
. Then we were off to the races.
SWL

:
What are some of the hurdles to writing a book like this?
JR:
A lot of people don't want to go on record saying negative things about
SST
and Greg Ginn, which I completely understand. Another huge hurdle was the pandemic. People went through some shit and the timing of my requests wasn't always ideal. That said, a lot of people were sitting at home with nothing to do. As a result, some of the people I thought would talk to me didn't, and some that I didn't think I would get shared their stories with me.
SWL

:
What's one mind-blowing thing you learned researching and writing this book?
JR:
There are all kinds of fascinating things that people told me that I didn't know about the label and its bands, but I'll save those for the book. I think the biggest mind-blower for me was the realization that
SST
isn't a punk label. That sounds like sacrilege, but around the time Black Flag broke up,
SST
more or less pivoted away from punk and began to establish itself as an indie label and rode the alternative wave into the '90s. But even that description doesn't encompasses the many styles and genres of music with which
SST
experimented.
SWL

:
What's one thing that a lot of people get wrong about

SST

Records?
JR:
I think it's a fairly common misconception that
SST
Records was chugging along, getting bigger and better every year, and then things got weird. A lot of people have asked me what happened that made the label seemingly turn against its own artists. As I got deeper into the story I realized that
SST
had always been confrontational. So I decided to structure the book in terms of its many battles and feuds as a kind of organizing principle.
SWL

:
In your opinion, is

SST

Records the greatest indie label of all time? Will we ever see another label like it?
JR:
I don't like superlatives, especially with regards to art, because you can only measure it in turns of output and units sold and those are poor measuring sticks for art. I do, however, believe we'll never see another label like
SST
. The circumstances that led to the label's formation and shaped its history no longer exist. I think it's helpful to remember that before the '60s and '70s the music industry was song-based. For a while, a lot of people got rich during the '70s, '80s, and '90s due to album sales, but with the rise of digital media and streaming platforms, the game has changed and we're heading back to a song-based industry again. There's nothing you, me, or
SST
can do about it.
•••
More Articles About Books:





• Jim Ruland's Top 5 Favorite Punk Books
• You're Pretty Good For A Girl by Lynn Perko-Truell
• Absolution Is Out Of The Question: Replacements Fandom In Midlife
• Alison Braun's Top 5 Favorite Punk Bands To Photograph
• Tim Hinely's Top 5 Favorite Venues