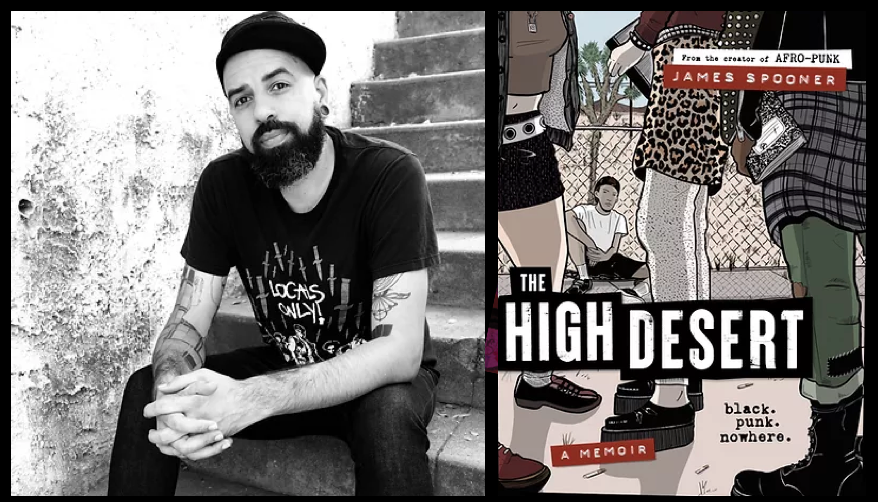 8 June 2022
Playing Favorites is an interview series where creative people pick a topic and tell us their five favorite things about it. Opinions expressed in this series are those of the interviewees and do not reflect the opinions of S.W. Lauden or The Big Takeover.

James Spooner is the author of The High Desert: Black. Punk. Nowhere. (Harper Collins), a punk rock graphic novel memoir. Spooner previously directed the documentary Afro-Punk, and co-founded the Afropunk Festival. He is currently co-editing an anthology entitled, Black Punk Now (Soft Skull Press). I asked Spooner to share his five favorite black female-/non-binary fronted punk bands.


JAMES

SPOONER

'S

TOP

5

FAVORITE

BLACK

FEMALE

-/NON-

BINARY

FRONTED

PUNK

BANDS
5. Jenny Quesadilla of Provoke
I first saw
Provoke
open for
Limp Wrist
in Los Angeles just before the pandemic. They are one of those bands that had me screaming along even though I had no idea what any of the lyrics were. I was fully engaged with the force Jenny was putting out on stage. Before the show was over I had already bought what ever I could from their Bandcamp page. This is my brand of hardcore.
4. Poly Styrene of X-Ray Spex
The only one on my list I never had the opportunity to see live… Poly Styrene's existence as a punk pioneer validates us, and as a creative force Poly also inspires us. The song identity hits me on a personal level. I knew what it was about before I ever read the lyrics.
3. Tamar-kali
Tamar-kali
and I met while making the
Afro-Punk
documentary and we became fast friends, but I didn't actually hear any music for a month or two after that. Like most people, when I did I fell in love with Tamar-kali's voice. There are few rock vocalists, past or present, who can hold a candle to the soulful quality of Tamar-kali's voice. Live, Tamar-kali somehow doesn't fall into the trap of the soul vocalist layered on top of rock music. Tamar-kali is 100% soul and 100% punk without sacrificing either. A true force.
2. Shingai Shoniwa of Noisettes
Noisettes
came into my life towards the end of my time with Afro punk. They were superstars in my mind. From high pitched singing to intermittent growling, there is an unmistakable sound quality to Shingai's voice. Noisettes was poised to stand out from their first single.
1. Bryanna Bennett of Buggin'
If
Buggin'
existed in the '90s when I was in high school, I would have followed them everywhere. They have a distinct New York hardcore sound (though they hail from Chicago), but Bryanna's vocals give a refreshing boost to the sound—and could stand up to any
DMS
tough guy. Bryanna delivers. This band rules.
Previously on Playing Favorites:
Jenn Alva's Top 5 Favorite Punk Singers
Jim Ruland's Top 5 Favorite Punk Books
Carolina Hidalgo's Top 5 Favorite Funny Punk Musicians