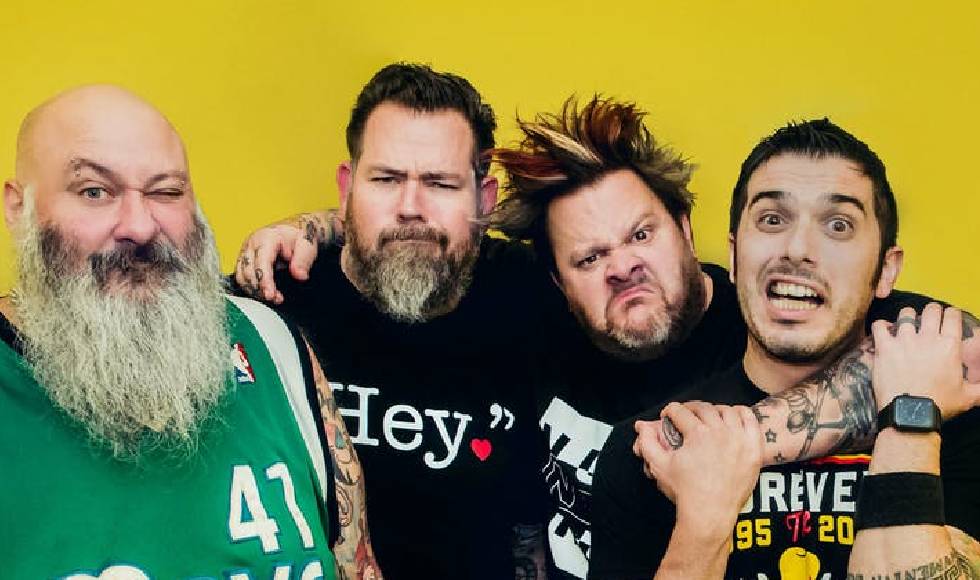 20 May 2022
(Jaret Reddick—third from left—with Bowling For Soup)
Playing Favorites is an interview series where creative people pick a topic and tell us their five favorite things about it. Opinions expressed in this series are those of the interviewees and do not reflect the opinions of S.W. Lauden or The Big Takeover.
Jaret Reddick is the vocalist/guitarist for the Texas-based pop punk band Bowling For Soup. The band formed in 1994 and has released 11 studio albums featuring songs like "1985," "Girl All the Bad Guys Want" and "Almost." Their latest release is Pop Drunk Snot Bread (Brando/Que-So Records), featuring the single "I Wanna Be Brad Pitt" (click here for upcoming Bowling For Soup tour dates). Bowling For Soup also performs the theme song for the popular cartoon series Phineas and Ferb where Reddick regularly appears as the lead singer for the fictional band Love Händel. Reddick's side projects include a songwriting partnership with Linus of Hollywood in the comedy music duo Jarinus, and Bowling For Soup was named for a Steve Martin comedy routine, so I asked Reddick to share his five favorite stand-up comedians.

JARET

REDDICK

'S

TOP

5

FAVORITE

STAND

-UP

COMEDIANS
5. Eddie Murphy
There is no denying the greatness of Eddie Murphy. The fact that he did a stand up movie,
Raw
, that was wildly successful shows just how huge he was. He did have amazing writers, but no one could deliver like Eddie when he was in his prime.
Delirious
came out when I was in the 8th grade. My parents let me stay up and watch it—the words "ice cream man" would never come out of my mouth the same after that one. I was a little too young to really understand the bit where
The Honeymooners
fuck each other in the ass, but the impression itself was enough to make me laugh. And just the fact that people came to see him thinking he was going to do Gumby…Well, that is my favorite!
4. Mitch Hedberg
Life takes a lot of artists too soon, but it is hard for me to think of someone who would have had more of an impact on their craft if given the years to do so. Mitch came into the spotlight after his first Comedy Central special. I had never seen or heard anything like his stand up. I saw him perform seven times. It was never the same show. Somehow he managed to always be fresh and funny and when he messed up or tried a new joke that didn't work, it was just as good as the jokes that killed…because he was Mitch! Everyone I know has a Mitch impression. That is a testament to how unique he was. Little one liners that were so smart, you sometimes couldn't believe you didn't think of them—but you didn't, and that was his gift. Mitch passing away was one of the saddest days of my life. I hear his voice in my head every time I get a receipt….for a donut. If you know, you know.
3. Anthony Jeselnik
If anyone is going to be our savior as today's comedy ship sinks, I predict it will be Anthony. There is no "too soon." There is nothing off limits to this man—and, in my opinion, that is the way it should be. When comedians started getting cancelled because of past material, Anthony tweeted…"Finding something offensive I have said in the past is like finding hay in a needle stack." Anthony's long-form stories are equally as funny and cringy as his one-liners. He is a master at making you feel uncomfortable for laughing at his jokes. On one album he actually announces that if the audience has been offended so far, to just wait! He then says he will tell them the four most offensive jokes they have ever heard….and he fucking
DOES
! God Bless him!
2. Steve Martin
The original arena comedian. Steve studied the craft, and craft his act he did. Often playing the buffoon, his comedy was so smart that it translated from the enormity of the arena stage to the albums I listened to over and over again. There are at least 100 things I say in everyday life that came from Steve Martin bits. In fact, the name of my band, Bowling for Soup, comes direct from one of his routines.
PLEASE
go watch
The Absent Minded Waiter
! I have never in my life laughed as hard as I have watching that skit. Keep 'em coming Steve!
1. George Carlin
Carlin changed his comedy and his persona throughout his decades-long career. Every single one of his
HBO
specials is an absolute masterpiece. When I look at the world around me these days, I often wish he was here to comment on us as a society. His final years of comedy were just that; commentary on the world and how silly we all are as a civilization. He was so far ahead of us with said commentary, that when I go back and listen to him now it's like he is warning us of times to come. I miss this man as though I knew him personally. But a huge painting of George that my wife painted for me hangs proudly in my studio for me to look at everyday as I work and think…"Ok…This guy is making a little sense…AGH…He's fucking stupid!!" Thank you for everything, George.
Previously on Playing Favorites:
Linus of Hollywood's Top 5 Favorite Classic Metal Albums
Parry Gripp's Top 5 Favorite Weird Al Songs
Joey Cape's Top 5 Favorite Tour Restaurants