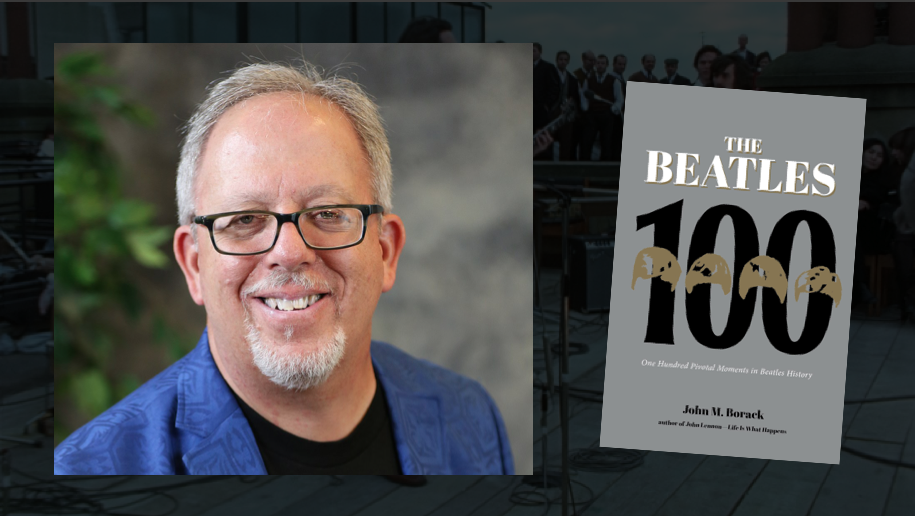 29 December 2021
Playing Favorites is an interview series where creative people pick a topic and tell us their five favorite things about it. Opinions expressed in this series are those of the interviewees and do not reflect the opinions of S.W. Lauden or The Big Takeover.
John M. Borack is a veteran music journalist, currently serving as a contributing editor at Goldmine Magazine. He's the author of three previous books, including Shake Some Action: The Ultimate Power Pop Guide, John Lennon: Life Is What Happens and Shake Some Action 2.0: A Guide to the 200 Greatest Power Pop Albums, 1970–2017. His new book is The Beatles 100: One Hundred Pivotal Moments in Beatles History. So, I asked him to share his favorite moments from The Beatles: Get Back.

PLAYING

FAVORITES

:

JOHN

M.

BORACK

'S

FAVORITE

'

GET

BACK

'

MOMENTS
5. John Lennon's Sense of Humor on Display
Lennon was, of course, well known as a top-notch wordsmith/punster as well as a master of the snarky, cutting putdown. (One of my favorite moments of non-official Beatles audio is Lennon doing some hilarious freestyle riffing on various topics while cutting background vocals during the
Rubber Soul
sessions.) While he comes off as oddly muted, spacy, and more than a bit stoned during a good portion of part one of
Get Back
, he seems to snap to life in parts two and three with a number of humorous asides: he refers to "I've Got a Feeling" as "I've Got a Fever," mugs for the camera on several occasions, and offers a hilarious bit about upper-crusters
Sir Joseph Lockwood
,
Dick James
, and the "FBI" (aka
EMI
). My fave quick-witted Lennon moment in
Get Back
: when producer
Glyn Johns
asks
Ringo Starr
if he has a damper on one of his drums, Lennon jokingly retorts, "The only damper around here is you, Glyn Johns!"
4. "You're Giving Us a Lift, Bill" – Billy Preston Arrives
When keyboardist Billy Preston shows up at 3 Savile Row during part two of
Get Back
—seemingly out of the blue—his presence seriously improves the vibe of the sessions in a palpable manner. The ever-genial Preston jams with the Beatles, works his instrumental magic, smiles and exudes joy non-stop, and is quickly invited to become a part of the project. His funky keyboards provide much-needed color to several of the tracks (check his solo on "Don't Let Me Down"), and the only mystery is why he was virtually ignored by the cameras when the Beatles hit the rooftop. But give them a lift he certainly did.
3. Paul McCartney Composes "Get Back" on the Spot
On January 7, 1969, while waiting for John Lennon to arrive at Twickenham Studios, Paul McCartney picks up his Hofner bass and begins strumming, singing and humming, searching for a song idea. Stunningly, while a visibly bored
George Harrison
and Ringo Starr look on, McCartney is able to hit upon the bare bones (musically and lyrically) of what was to become one of the Beatles' most enduring singles, "Get Back." This seems to occur in less than three minutes. Can you say "genius?"
2. "And Then There Were Two…"
This is a moment many have been referencing, and with good reason: it's one of the most powerful scenes in
Get Back
—George Harrison has left the Beatles with a glib "See you 'round the clubs," and John Lennon has not only stayed away from the studio, but also ceased answering his phone. As McCartney and Starr sit and discuss these events and their repercussions with a group of Beatles insiders, the potential gravity of the situation seems to eventually hit Paul: he quietly says, "And then there were two…" and the camera captures his eyes welling up with tears as the assembled sit in silence and leave McCartney alone with his thoughts for what seems like an eternity.
1. "I Hope We've Passed the Audition"
Anyone who has listened to the
Let it Be
album (and/or those who have seen the original film) is aware of John Lennon's humorous proclamation on the rooftop that closes the proceedings: "I'd like to say thank you on behalf of the group and ourselves and I hope we've passed the audition." Somehow, though, this moment seems to take on a newfound poignancy when we experience it in
Get Back
. Perhaps it's because we've just spent nearly eight hours with John, Paul, George, and Ringo and feel like we've achieved some sort of new level of intimacy with them; or it could be because it's hit home that Lennon and George Harrison are no longer with us and we will never experience the magic that was the Beatles ever again. In any event, seeing and hearing Lennon utter these words in 2021 provides all the feels.
Bonus Cut:
"I've Farted" – Ringo Fesses Up
Director
Michael Lindsay-Hogg
is having a serious discussion with Paul McCartney regarding a possible location for a Beatles live concert, when suddenly Ringo turns to
George Martin
(who is seated to the drummer's immediate left) and announces in all seriousness, "I've farted." If there was ever a moment that proves that the Beatles were not Gods and simply mere mortals like the rest of us, this may just be it.
Previously on Playing Favorites:
Peter Gill's Top 5 Favorite Power Pop Albums
Parry Gripp's Top 5 Weird Al Songs
Alison Braun's Top 5 Favorite Punk Bands To Photograph