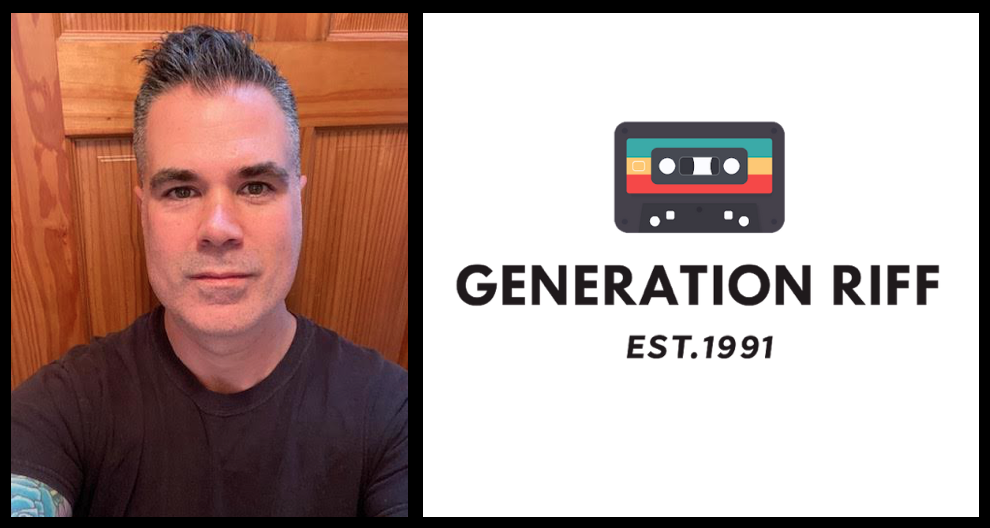 23 June 2022
Playing Favorites is an interview series where creative people pick a topic and tell us their five favorite things about it. Opinions expressed in this series are those of the interviewees and do not reflect the opinions of S.W. Lauden or The Big Takeover.
Rob Janicke is the founder of Generation Riff, a multimedia celebration of '90s music. A musician and former indie label owner, Janicke started Generation Riff for Gen X music-lovers who grew up listening to punk rock, grunge, alternative and hip-hop. The website features blogs, articles, videos and interviews about the music that shaped 90s culture. He also recently launched the Generation Riff Podcast in partnership with Keith Higgons of the Abandoned Albums podcast. Rob is an avid reader and occasional book reviewer, so I asked him to share his five favorite rock reads.

ROB

JANICKE

'S

TOP

5

FAVORITE

ROCK

READS
5. Grunge Is Dead: The Oral History of Seattle Rock Music by Greg Prato
I know this isn't a biography of a musician or a band, but it's essentially the biography of a very important scene and the music industry overall. It's always good to hear what took place from the people who were there at the time and this book delivers.
4. Famous People Who've Met Me: A Memoir By the Man Who Discovered Prince by Owen Husney
Prince is one of my favorite artists, but his life and career always seemed to be shrouded in a bit of mystery. I didn't know who Owen Husney was before reading the book, but his role in introducing Prince to the world was huge. Husney provides tons of behind the scenes information and great stories from the days when Prince was just starting out. A must read for any Prince fan.
3. Petty: The Biography by Warren Zanes
This is one of those books that somehow puts the reader square in the middle of every story. You feel like a fly on the wall of Tom Petty's life and career throughout the entire book. A lot of people tend to say "I couldn't put the book down" when describing a book they love, but I think it's pretty rare that people actually mean that. I can say that, for me, this was one of those rare times that I couldn't put the book down.
2. Tranny by Laura Jane Grace with Dan Ozzi
I love music that is honest and daring and this is a book all about that. Being a fan of
Against Me!
starting around 2008, I followed their career very closely as I fell in love with the music. When Laura Jane Grace came out at the height of the band's success and wrote about it in such an open and honest way, I saw that as the very definition of honest and daring.
1. Sing Backwards and Weep: A Memoir by Mark Lanegan
Not unlike
Tranny
, this book is extremely honest and daring. Mark Lanegan bares his soul, warts and all (and there were plenty) for the world to read and probably judge. He lived a troubled life to say the least while weaving in and out of the music industry spotlight for the bulk of his life, up until his recent and untimely death. This book has more emotion (albeit dark emotion) packed into it than any music book I've ever read.
Previously on Playing Favorites:
James Spooner's Top 5 Favorite Female-/Non-Binary Fronted Punk Bands
Jim Ruland's Top 5 Favorite Punk Books
Carolina Hidalgo's Top 5 Favorite Funny Punk Musicians