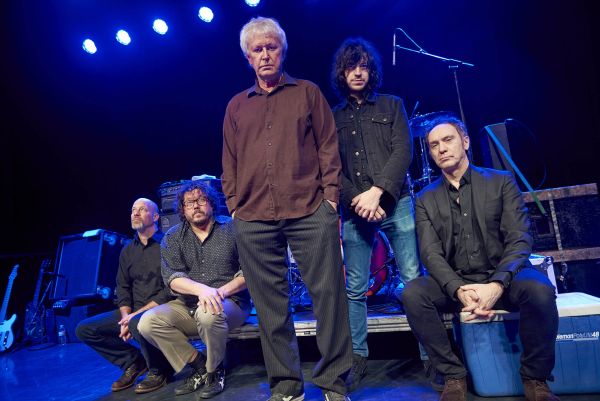 16 February 2020
Guided By Voices – Photo Credit: Tony Nelson
The Big Takeover is thrilled beyond measure to host the premiere of Surrender Your Poppy Field, the latest album from the renowned and ultra-prolific Robert Pollard and colleagues, otherwise known as the legendary indie rock band Guided By Voices.
Surrender Your Poppy Field officially releases on February 20th via GBV Inc, but we have the exclusive first listen to the album in all its gritty and compelling glory. Feast your ears on the full album stream below.
The LP is the first of more albums to come from Guided By Voices this year, and follows up three albums that were released in 2019. Always on a roll, the super-talented Pollard and his collective of skilled musicians have created a musical tour de force with Surrender Your Poppy Field.
Always exploring new sounds, techniques, and styles, this album is a varied collage of music, from lo-fi four-track tape recordings and songs that were recorded with a single microphone in a basement to big-studio, fully-produced tuneful pop songs – and there's a LOT in between, including driving indie rock.
Seemingly, the guiding concept of Surrender Your Poppy Field was to make the songs sound as different from one another as possible: sudden shifts in mood, tempo, and rhythm, unexpected chord progressions, false endings and codas, string orchestrations, mysterious voices… sometimes mostly on the same song!
It's an exhilarating and dizzying trip to an inventive world of strange characters: Andre the Hawk, Queen Parking Lot, the Cul-de-Sac Kids, the Hard Hitter, the Steely Dodger, the Stone Cold Moron, A Man Called Physician, A Man Called Blunder…
The vibrant rock 'n' roll opener segues into lead single "Volcano," filled with gentle reflection, trippy psychedelia, and, quite suddenly, searing rock guitars. A change is in the air on another song that runs on chugging rhythms and carnival-esque twinkle and sway, before eventually moving into a propulsive pace that dissolves into airy pressed synths and guitar strum. And those are just the first few songs!
A simmering track follows with the focus on Pollard's passionate exclamations, then goes into a flowing, '90s-like guitar-jangle of the title track with its bleak lyrics, "We're running out of space". Pollard shifts his vocals to a richer, lower range on the next number while surrounded by bright to dark guitar lines.
Sludgy guitars and buzzy vocals tune in on the ominous next track, which slides into an urgent bass line and clearer vocals with Pollard singing about a "highwire Frankenstein" with "tunnel vision"… Hmmm, I wonder who that could be?
"A Man Called Blunder," which we premiered recently as the second single from the album, follows. It's a classic slice of fried indie rock gold. The tempo then slows, if only for a moment, on a brief symphonic cowboy lament before shifting to shining, limpid guitar lines and a heavy drum beat. Pollard bemoans the fact that, "It's all going down / Where else could it go?
Guitar fuzz and pushing rhythm feature on the next song, where Pollard sings of being ensconced in "a material world". Tuning instruments preface the rise a steady drum thump, extended symphonic wandering, and heartfelt vocals from Pollard on the last track of the album.
Not content with their usual mastery of the 4 P's (punk, pop, prog, psych) Professor Pollard pushes the envelope on Surrender Your Poppy Field, and continues to redefine Guided By Voices from a myriad of angles. Anyone who thinks that Pollard has gotten complacent after 104 albums hasn't been paying attention! Don't miss out.
Pre-Order Surrender Your Poppy Field HERE
TOUR DATES
Fri 04/03 – Ottobar – Baltimore, MD
Sat 04/04 – Mr. Smalls Theatre – Pittsburgh, PA
Fri 04/24 – Musikfest Cafe – Bethlehem, PA
Sat 04/25 – College Street Music Hall – New Haven, CT
Fri 05/01 – Shaky Knees Music Festival – Atlanta, GA
Sat 05/02 – Cat's Cradle – Carrboro, NC
Fri 05/08 – Fremont Theater SLO – San Luis Obispo, CA
Sat 05/09 – The Regency Ballroom – San Francisco, CA
Fri 07/10 – Fine Line – Minneapolis, MN
Sat 07/18 – Springsfest – Yellow Springs, OH
Website
Facebook
Twitter
Instagram