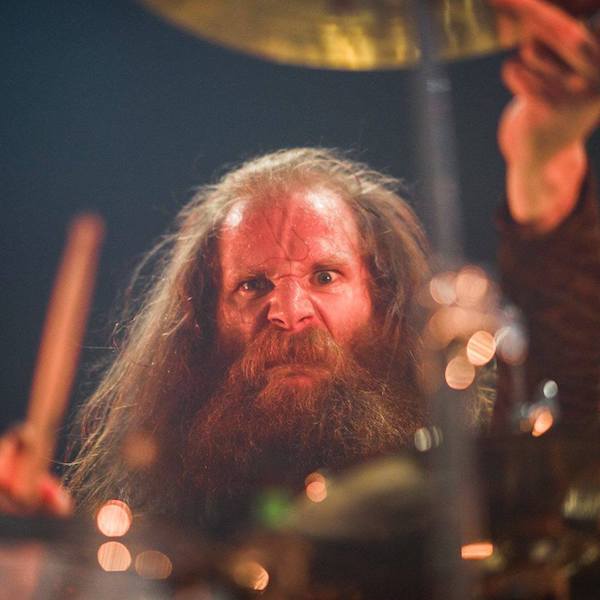 8 August 2019
Photo: Kadavar
For a festival that is virtually bulletproof with prized talent, this year's Psycho Las Vegas poses relatively few set time conflicts. But, inevitably, some are riling up attendees: the entire set by Power Trip will take place while Opeth play a lengthier one Sunday night. Also, anyone hoping to catch both Clutch and Mark Lanegan on Saturday is SOL.
The tail end of next week's festival at the Mandalay Bay Resort and Casino carries with it a final set time conflict: German psych/stoner throwback trio Kadavar plays from 11 to midnight on Sunday, August 18, while heady Belgian post-metal experimentalists Amenra perform from 11:30 p.m. to 12:30 a.m.
Still, there is an opportunity to see at least some of each band's performance — in fact, Kadavar drummer Tiger revealed to the Big Takeover in a lively email interview late last month that he plans to see some of Amenra's touted spectacle after his own band exits the stage.
Kadavar debuted in 2012 with a self-titled album co-released on Tee Pee Records, and the band is about to issue its fourth Nuclear Blast album — For the Dead Travel Fast — on September 20. (Kadavar recently re-signed to the label.) The trio played Psycho in 2014 but haven't touched U.S. soil since 2015, which has Tiger champing at the bit.
In his interview with the Big Takeover as part of our lengthy ongoing Psycho preview series, Tiger divulged his excitement about visiting Vegas for the first time, the band's plans to debut new material at Psycho, and whether Kadavar have obtained their visas yet …
[Watch our YouTube playlists for videos from each band playing at Psycho on Thursday, Friday, Saturday and Sunday.]
Why are you particularly excited to play Psycho? From your point of view, what makes the festival special — both from a performance perspective and as a personal experience?
TIGER: I'm excited because it's going to be our first U.S. performance since a long, long time! We had been supporting the Sword together with All Them Witches. That was in 2015. We toured a lot in Europe, and building our studio was a big project too. Now it's time to return, louder and heavier than ever. We have lots of good memories touring in the States. I'm really looking forward to [coming] back, and PLV will be the perfect occasion!
You played Psycho way back in 2014, before it moved to Vegas. What are your memories from that experience? And what are your expectations for this year's performance — and playing in Vegas?
TIGER: Yes, they called it Psycho de Mayo at the time if I'm right?! It was a great night. There were a lot of cool bands playing, many of our skater friends were there too. We had lots of fun backstage. I remember during our show like half of the crowd was onstage. The vibe of the whole show was amazing. I hope that people won't be too tired on Sunday, as we're closing the festival. We'll do our best to kick their ass for one last time before they shall be released, haha.
Do you have any special bonuses planned for your Psycho set, whether they be songs you wouldn't normally play, new material, collaborations, etc.?
TIGER: It might become the premiere performance of new material, to say the least. We're preparing a destroyer set list for the show!
Will this likely be the biggest crowd you've performed for in the U.S. to date?
TIGER: Yes, probably!
Are you concerned about visa issues, like you've had in the past? That problem has plagued some bands traveling internationally to Psycho.
TIGER: Visas are always a problem. Too much paperwork to enter your country. We don't have our permits yet. But it has worked out the last two times, so I'm positive it will this time as well.
What other bands are you most excited to see perform at Psycho this year? Will it be your first time seeing any of those bands?
TIGER: I'm bummed to miss Electric Wizard, first of all. They should have played on Sunday too, haha! I'm looking forward to see Uncle Acid, Deafheaven, Vio-lence and especially Amenra. Their live show is amazing.
What friends of yours are also playing at the festival? Who are you planning or hoping to hang with in your downtime?
TIGER: I had hoped to hang with our friends in Danava, but I'm not sure they will still be there. They play on Thursday. We will team up later in Portland, that's gonna be great too!
Have you played in — or even visited — Sin City before? If so, tell me something that happened to you in Vegas that was supposed to stay in Vegas.
TIGER: It's the first time for me. You can ask me next time :)
What can fans and newcomers expect from Kadavar's performance(s) at the festival?
TIGER: We will give everything we have, so our fans won't be disappointed and maybe some newcomers will be convinced :) I can feel it's going to be intense! I just got an email that our visas have been approved. Vegas, here we come!
For previous installments of the Big Takeover's Psycho Las Vegas preview series, check out our interviews with:
• Archaon, longtime guitarist for Norwegian black-metal vets 1349
• Colin H. Van Eeckhout, vocalist for Belgian post-metal purveyors Amenra
• Jason Shi and Scott Key, singer/guitarist and drummer, respectively, for melodic hard-rock masters ASG
• Jay Bentley, founding bassist for politically progressive punk pros Bad Religion
• Alex Mass, frontman for Austin psych-rock princes the Black Angels
• Stephen McBean, singer/guitarist of long-running psychedelic-rock project Black Mountain
• Jean-Paul Gaster, drummer for "the quintessential American rock band," Clutch
• Jeff Walker, vocalist/bassist for extreme-metal behemoths Carcass
• Greg Meleney, vocalist/guitarist for Portland psych-rock mainstays Danava
• George Clarke, vocalist for shoegaze/black-metal powerhouses Deafheaven
• DJ Painkiller, an L.A.-based metalhead who will be spinning between sets
• Darkest Prince, lead guitarist for black-metal punks Devil Master
• Victor Vicart of Scottish progressive-metal quintet Dvne
• Laura Dolan, vocalist for Cincinnati rock 'n' roll purists Electric Citizen
• Todd Fink, frontman for electro-pop punks the Faint
• Dylan Walker, frontman for brutal grindcore quartet Full of Hell
• Zack Simmons, drummer for blackened death-metal demigods Goatwhore
• Emil Amos, drummer for experimental post-rock band Grails
• Julien Chanut, guitarist for French sludge-doom band Hangman's Chair
• Tony Campos, guitarist and founder of thrash revivalists Hell Fire
• Nashville cosmic-riff connoisseurs Howling Giant
• Gabriel Franco, vocalist/guitarist for gothy post-punks Idle Hands
• Joshy, drummer for crusty death/doom-metal outfit Ilsa
• Irita Pai, bassist for all-female punk-rock trio L.A. Witch
• Julian Porte, frontman for L.A. psych-rock collective Levitation Room
• Johanna Sadonis, vocalist for "heavy magic rock" band Lucifer
• Invincible crooner and former Screaming Trees frontman Mark Lanegan
• Stuart Braithwaite, founding guitarist/vocalist for beloved post-rock legends Mogwai
• Kelly Finnigan, frontman for Bay Area psychedelic-soul quartet Monophonics
• Thomas Eriksen, centrifugal force behind true Norwegian black-metallers Mork
• Teddi Tarnoff, frontwoman of "Vegas-based dirty rock 'n' roll band" Mother Mercury
• All-female Motörhead tribute band Motorbabe
• Justin Anthony Maranga, lead guitarist for L.A. hard-rock quintet Night Horse
• Wino, godfather of doom metal and frontman for the Obsessed
• Mikael Åkerfeldt, frontman for Swedish progressive-metal kings Opeth
• Ben Bloom, frontman/guitarist for funk-soul octet Polyrhythmics
• Riley Gale, vocalist for Dallas crossover-trash specialists Power Trip
• Ethan Lee McCarthy, frontman for blackened-doom trio Primitive Man
• Tobias Grave, frontman for shimmering post-rock trio Soft Kill
• Kirpatrick Thomas, vocalist/guitarist/conceptualist for acid-rockers Spindrift
• Experimental rock, alternative hip-hop and dance music guru Tobacco
• Derrick Vella, guitarist of death-metal arsonists Tomb Mold
• Niklas Källgren, guitarist for Swedish fuzz fanatics Truckfighters
• Los Angeles Satanic doo-wop duo Twin Temple
• Kevin Starrs, frontman of British fuzz royalty Uncle Acid and the deadbeats
• Sean Killian, vocalist for cult-favorite Bay Area thrash band Vio-lence
• Mike Hubbard, vocalist-drummer for reunited Massachusetts doom-metal band Warhorse
• Bruce Lamont, frontman for experimental heavy-jazz project Yakuza and Led Zeppelin tribute band Led Zeppelin 2
• Aaron Rieseberg, bassist for Oregon doom-metal dealers Yob
Also, don't miss our special feature in which Deafheaven's Clarke and Mogwai's Braithwaite discuss their mutual affection for each other's bands, whether Deafheaven should play their Mogwai cover at Psycho Las Vegas — and the possibility of a collaboration between the two projects.