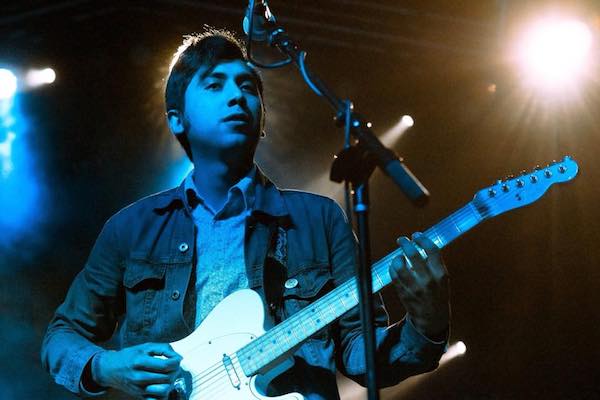 6 August 2019
Photo: Levitation Room
Levitation Room's Facebook page says the stoner-rock band was founded in 2014. But the L.A. collective actually played the first-ever Psycho fest in 2013 — back when it was called "Psycho de Mayo" and held in Santa Ana, California.
Julian Porte admitted to the Big Takeover in a telephone interview on Sunday that he was nervous as hell playing that show. But, six years later, he and his four bandmates feel more comfortable than ever — and are set to make their Psycho return next Saturday from 1 to 1:45 p.m. in the Rhythm & Riffs Lounge at the Mandalay Bay Resort and Casino.
Levitation Room just returned from a European tour in which they played some gigs with L.A. Witch, a punk-rock trio we featured on Sunday. But Porte exclusively confided some big new-release news with the Big Takeover — and also recounted a wild Vegas story only bested by the one Power Trip frontman Riley Gale shared in our interview with him published Monday.
[Watch our YouTube playlists for videos from each band playing at Psycho on Thursday, Friday, Saturday and Sunday.]
Hey Julian, what are you up to today?
PORTE: Selling bourgeoisie French yogurt at a farmers market.
Before I left on my last European tour, I had a regular gig around Orange County. My boss knew I would be going on tour, but not the gravity of how long I'd be gone, so it came as a shock to him. He was like, "Yeah, I'm gonna put you on call." It's hard for a musician to find work. We have to find our hustle.
How was your tour of Europe and the U.K.?
PORTE: It was a beautiful, great tour. We sold out a lot of the shows. That was our third time there, and every time we've gone, the venues grow, the audiences get bigger, and more people are singing along.
How did you manage to cultivate such a strong following across the pond?
PORTE: We have a pretty big Spotify presence, so a lot of people know about us through that. And we have a promoter in Europe who does a great job. Over there, people are curious about L.A. bands.
You mentioned in our earlier text chats that you're ready to make a new album announcement today.
PORTE: Yes. The album is called Headspace, and the first single is "Mr. Polydactyl Cat."
That word is new to me. Is it a type of dinosaur?
PORTE: It refers to cats with a genetic anomaly, that have six or more toes. I had three cats that were polydactyls, so I wrote it for them.
Ernest Hemingway actually bred them. He was gifted with one by a sailor, and they stayed on his property — the one in Key West, Florida.
That's some fascinating trivia. Are you already playing the song live?
PORTE: We played it on the U.K. tour and will be playing it at Psycho.
What was it like playing the first Psycho festival?
PORTE: It was when we were first starting the band. I remember there being a lot of bands, and we played the smaller stage. We were one of the first bands that played. I remember being really nervous because it was the first time we played a festival and were getting used to playing in front of people. We hid behind a lot of reverb. It was a cool atmosphere, though — on a smaller scale.
When did you get invited to play this year's edition?
PORTE: We got asked six months ago to come play. I actually didn't even know the festival had moved [to Vegas]. I was wondering about [creator] Evan [Hagen], because he used to hang out in the psych scene back in the day and then disappeared. We haven't spoken in a while. We were asked to [play Psycho] by someone else.
What are your expectations for this year's event?
PORTE: I'm hoping it's gonna be cool, man. There's billboards for it all over Los Angeles. When I'm at work — actually, earlier today — someone was wearing a Misfits shirt, and I told them about the festival, and they said they were gonna be there. It's a cool mash-up of metal and thrash music and psychedelic music, dance. It's a culmination of different types of music.
Do you plan to run into any old friends there?
PORTE: We haven't seen L.A. Witch since we got back from Europe, so it'd be good to see how the rest of their tour went. I have family [in Vegas] and friends over there too.
Which bands are you most excited to see perform?
PORTE: Definitely [the Original] Misfits. That was the first band I ever obsessed over. I was in the punk scene when I was 15 to 18, and the Misfits were my introduction to punk rock. That was the first band I was really passionate about. I had tons of Misfits shirts and saw them back when [the sole original member] was Jerry Only. I'm also excited to see the Faint.
Are you happy with your set time and venue?
PORTE: We're playing first [in the lounge; Norwegian black-metallers Mork will kick off Saturday's festivities at the House of Blues]. I think it'll be fine. Hopefully people show up. Mandalay will be cool. I'm not trying to think too much about when we're playing.
How has Levitation Room grown and matured since the first time the band played Psycho?
PORTE: We've matured in a lot of ways. We're more used to playing in front of people. That Psycho de Mayo [experience] was nerve-wracking. We're used to cutting loose, having fun and letting the music take over. Our songwriting and songs has evolved. We're more comfortable onstage together and try to let it show. You can see it in our demeanor. We used to use a lot of ethereal sounds. Now we're more trying to incorporate jazz, folk, world music, and trying to bring different sounds to the table. As any band does, they evolve over the years.
Will those new sounds be reflected on Headspace?
PORTE: Most definitely.
Are you going to be there for the duration of the festival?
PORTE: I think most of us are gonna be there for the full fest. We're definitely arriving in the evening of 16th. Maybe we'll catch a few bands, then play early the next day, and stick around afterward and catch some bands. Probably relax Sunday and see some bands later.
Do you gamble?
PORTE: I gamble only in Vegas but tend to not like to be too gluttonous or frivolous about our money. I like playing blackjack and do get pretty lucky sometimes. I'm definitely hitting the pool. I think we might be hitting up a few friends' pool as well.
Tell me something that happened to you in Vegas that was supposed to stay in Vegas.
PORTE: There's been a lot of drunken nights in Vegas. I'll say that. I'm not sure …
… Actually, I got one for you. So, usually when we play Las Vegas, we play at the B Bar or somewhere. There's always a girl — and we don't even know her name — who comes to our shows wherever we play and gives a free tab of acid to each of us. The first time we played was downtown Las Vegas, and the girl danced between us [as we performed]. We later went outside and took it not realizing it was already 2 a.m. in the morning.
We had pretty much a "Fear and Loathing" experience. We went to the casino next to the hotel room, took our earnings for the night and started gambling. Then the acid started kicking in, and the sounds of all the machines started echoing, and the people around us looked at us like we were weird. We got lost like we were in a maze. We finally got to our hotel room and synced up Dark Side of the Moon with "The Simpsons."
Wait, there's an episode of "The Simpsons" that syncs up with the Pink Floyd album?
PORTE: Our guitarist Gabriel Fernandez is a trivia nerd about "The Simpsons." He put on this one where Homer visits the afterlife. It's a super-trippy episode, and we turned off the volume and turned on Dark Side, and it synced up perfectly. We looked at the screen and looked at each other like, "Are you seeing this? This is incredible!" It was madness. The walls and carpet looked like snakes. It was a wild night. We thought the cops were gonna get us. We did't get any sleep.
Do you expect this mysterious LSD fairy to visit you at Psycho?
PORTE: I'm sure she'll show up again. We don't even ask her name. She just gives it to us.
So, in conclusion, what can fans and newcomers expect from your performance(s) at the festival?
PORTE: They can expect five guys bleeding their hearts onstage. I like to go crazy and jump on my drummer's drum set. So does everyone. Everyone rises to the occasion. You can expect groovy music and us thrashing.
For previous installments of the Big Takeover's Psycho Las Vegas preview series, check out our interviews with:
• Archaon, longtime guitarist for Norwegian black-metal vets 1349
• Colin H. Van Eeckhout, vocalist for Belgian post-metal purveyors Amenra
• Jason Shi and Scott Key, singer/guitarist and drummer, respectively, for melodic hard-rock masters ASG
• Jay Bentley, founding bassist for politically progressive punk pros Bad Religion
• Alex Mass, frontman for Austin psych-rock princes the Black Angels
• Stephen McBean, singer/guitarist of long-running psychedelic-rock project Black Mountain
• Jean-Paul Gaster, drummer for "the quintessential American rock band," Clutch
• Jeff Walker, vocalist/bassist for extreme-metal behemoths Carcass
• Greg Meleney, vocalist/guitarist for Portland psych-rock mainstays Danava
• George Clarke, vocalist for shoegaze/black-metal powerhouses Deafheaven
• DJ Painkiller, an L.A.-based metalhead who will be spinning between sets
• Darkest Prince, lead guitarist for black-metal punks Devil Master
• Victor Vicart of Scottish progressive-metal quintet Dvne
• Laura Dolan, vocalist for Cincinnati rock 'n' roll purists Electric Citizen
• Todd Fink, frontman for electro-pop punks the Faint
• Dylan Walker, frontman for brutal grindcore quartet Full of Hell
• Zack Simmons, drummer for blackened death-metal demigods Goatwhore
• Emil Amos, drummer for experimental post-rock band Grails
• Julien Chanut, guitarist for French sludge-doom band Hangman's Chair
• Tony Campos, guitarist and founder of thrash revivalists Hell Fire
• Nashville cosmic-riff connoisseurs Howling Giant
• Gabriel Franco, vocalist/guitarist for gothy post-punks Idle Hands
• Joshy, drummer for crusty death/doom-metal outfit Ilsa
• Irita Pai, bassist for all-female punk-rock trio L.A. Witch
• Johanna Sadonis, vocalist for "heavy magic rock" band Lucifer
• Invincible crooner and former Screaming Trees frontman Mark Lanegan
• Stuart Braithwaite, founding guitarist/vocalist for beloved post-rock legends Mogwai
• Kelly Finnigan, frontman for Bay Area psychedelic-soul quartet Monophonics
• Thomas Eriksen, centrifugal force behind true Norwegian black-metallers Mork
• Teddi Tarnoff, frontwoman of "Vegas-based dirty rock 'n' roll band" Mother Mercury
• All-female Motörhead tribute band Motorbabe
• Justin Anthony Maranga, lead guitarist for L.A. hard-rock quintet Night Horse
• Wino, godfather of doom metal and frontman for the Obsessed
• Mikael Åkerfeldt, frontman for Swedish progressive-metal kings Opeth
• Ben Bloom, frontman/guitarist for funk-soul octet Polyrhythmics
• Riley Gale, vocalist for Dallas crossover-trash specialists Power Trip
• Ethan Lee McCarthy, frontman for blackened-doom trio Primitive Man
• Tobias Grave, frontman for shimmering post-rock trio Soft Kill
• Kirpatrick Thomas, vocalist/guitarist/conceptualist for acid-rockers Spindrift
• Experimental rock, alternative hip-hop and dance music guru Tobacco
• Derrick Vella, guitarist of death-metal arsonists Tomb Mold
• Niklas Källgren, guitarist for Swedish fuzz fanatics Truckfighters
• Los Angeles Satanic doo-wop duo Twin Temple
• Kevin Starrs, frontman of British fuzz royalty Uncle Acid and the deadbeats
• Sean Killian, vocalist for cult-favorite Bay Area thrash band Vio-lence
• Mike Hubbard, vocalist-drummer for reunited Massachusetts doom-metal band Warhorse
• Bruce Lamont, frontman for experimental heavy-jazz project Yakuza and Led Zeppelin tribute band Led Zeppelin 2
• Aaron Rieseberg, bassist for Oregon doom-metal dealers Yob
Also, don't miss our special feature in which Deafheaven's Clarke and Mogwai's Braithwaite discuss their mutual affection for each other's bands, whether Deafheaven should play their Mogwai cover at Psycho Las Vegas — and the possibility of a collaboration between the two projects.