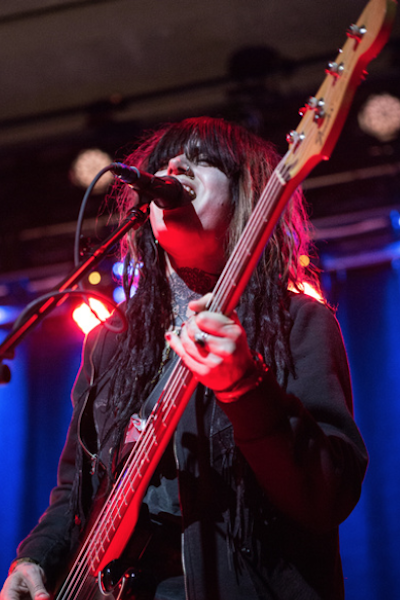 9 August 2019
Photo: Tim Bugbee
Unlike most music festivals, playing an early slot at Psycho Las Vegas isn't necessarily a bad thing. For one, since the daily lineups have virtually no filler, it's impossible to fit in all the talent without positioning some of the bands in the early afternoon. For another, Psycho's strongest asset is its ardent attendees — authentic music fans who will get up by noon to start hitting venues, all in the hopes of packing in as many memorable listening experiences in a day as they can. Lastly, there's rarely any competing bands performing early in the day.
Cases in point: Two of last year's most well-received performances came courtesy of progressive-metal quintet Dvne and psych/heavy-rock trio King Buffalo, who kicked off Friday at Hard Rock's main stage, and Sunday at its Vinyl stage, respectively.
Like those bands, Atlanta's mighty Royal Thunder — led by one of heavy rock's most underrated singers, Mlny Parsonz — will open the Rhythm & Riffs Lounge at the Mandalay Bay Resort and Casino on Friday, August 16, with a set running from 12:50 to 1:50 p.m.
While relegating a critically adored, 15-year-old veteran band to a lounge might seem perplexing, those who have witnessed Royal Thunder in concert may feel otherwise. As Parsonz recently told the Big Takeover, she feels most comfortable playing smaller venues, where she can connect with fans — often in ways that they won't see at any other show.
For example, at a June concert in Boise attended by only a couple of dozen people, Royal Thunder played for well over 90 minutes, and Parsonz sang the last few songs on the floor, facing the stage, shoulder to shoulder with attendees. She ended the night by hugging each concertgoer who had remained till the end of the show.
We gave Parsonz a holler on her cell phone on June 12 to talk about Royal Thunder's second appearance at Psycho, what makes her one of the most gracious musicians in the underground — and why on earth she decided to hide vitamins behind some tiles in a wall at an airport in Las Vegas.
[Watch our YouTube playlists for videos from each band playing at Psycho on Thursday, Friday, Saturday and Sunday.]
First of all, I'm still reeling from how you ended your show in Boise last night.
PARSONZ: Yeah, there's not a fucking song and dance routine that we have, but … for certain songs, I want to be closer to people, and if it calls for it, I'll do it. Last night it was a different vibe. I went out for three songs. I never want it to come across as fake.
Some bands play short sets in smaller cities, but we tend to go a little longer. We do it for the smaller crowds, because they probably feel like they're a throwaway city nobody gives a shit about. But we want to show them we love them.
Why are you particularly excited to play Psycho this time around?
PARSONZ: When I was there [in 2017], I walked around and everybody was just happy to be there, whether you're supporting bands or playing. It's almost like this heavy-metal rock-and-roll family reunion kind of thing. I just walked around and whatever drew me in, drew me in. Psycho was little moments of magic and getting to see a bunch of old friends.
What were the other highlights for you in 2017?
PARSONZ: Dark Castle, seeing that band resurrect. They're the best fucking people. Those dudes deserve way more credit. They have authenticity in the bag. I don't know if they could not do what they do.
What other bands are you most excited to see perform at Psycho this year?
PARSONZ: Godspeed. I used to make movies when I was younger, and I always used them for soundtracks to creepy parts. This was back when you had to use VHS players and go out to take recorders and play it on the movie and hit record on the other VHS player.
[The talk show] "Two Minutes to Late Night," they have a show there. Won't be able to see Megadeth, I might be gone by then. One time I ripped through this curtain into a room where Dave Mustaine was and I said, "I just wanted to tell you you're part of the reason I play music today." I interrupted a private moment in a VIP lounge. It was some awards show in L.A.
[Note: This interview took place before Misfits replaced Megadeth as Saturday's headliner.]
So you won't be staying too long at Psycho?
PARSONZ: It's up to me really how much I want to stay. By Sunday the last time, I almost went home early because I was worn out after playing and dragging around. I had to get home.
Tell me something that happened to you in Vegas that was supposed to stay in Vegas.
PARSONZ: You're not supposed to talk about that. I can't. I can't.
[A few seconds later …]
Anybody that saw me knew what I was doing in Vegas. I had a bunch of vitamins on me. I had a vest on with B vitamins and shit and had them in my pocket, and went into this security area, and they didn't believe me. "Man, you're gonna have to get rid of these," they said. I went to the bathroom — I wasn't going to throw them away — but I ended up breaking a tile off the wall in the bathroom [to hide them]. These were special, good-quality vitamins.
Do you prefer playing in the heat or in the cold? Indoors or outdoors?
PARSONZ: If we're playing at the pool, I'm pretty sure we're going to die. Yeah … I just don't want to.
Do you have any surprises planned for your Psycho set, whether they be songs you wouldn't normally play, added stage elements, etc.? What can fans and newcomers expect from your performance(s) at the festival?
PARSONZ: I hope you always get from us a moving, inspiring experience. As far as surprises, that is what it is. Nothing planned, but if the mood strikes, you'll see. The more we do this, the more comfortable I am, and I don't give a fuck what I'm doing. It's becoming easier and easier to get lost in what we do.
I'm not concerned with what people's opinion is with how I'm doing, and that leaves a lot of room for freedom. You can surprise yourself and the people around you, and I hope to awaken myself in others. Even if it's only for the 30 fucking minutes, you're standing there. Art's supposed to take your breath away for a second and make you feel something you haven't felt in a long time.
Do you think you'll be hugging fans after your set in Vegas?
PARSONZ: I like doing that, man, giving hugs. It's cool to go out and appreciate the people who come out and see you. In some way, it can mean a lot to people. I can take two seconds of my life and show my appreciation.
For previous installments of the Big Takeover's Psycho Las Vegas preview series, check out our interviews with:
• Archaon, longtime guitarist for Norwegian black-metal vets 1349
• Colin H. Van Eeckhout, vocalist for Belgian post-metal purveyors Amenra
• Jason Shi and Scott Key, singer/guitarist and drummer, respectively, for melodic hard-rock masters ASG
• Jay Bentley, founding bassist for politically progressive punk pros Bad Religion
• Alex Mass, frontman for Austin psych-rock princes the Black Angels
• Stephen McBean, singer/guitarist of long-running psychedelic-rock project Black Mountain
• Jean-Paul Gaster, drummer for "the quintessential American rock band," Clutch
• Jeff Walker, vocalist/bassist for extreme-metal behemoths Carcass
• Greg Meleney, vocalist/guitarist for Portland psych-rock mainstays Danava
• George Clarke, vocalist for shoegaze/black-metal powerhouses Deafheaven
• DJ Painkiller, an L.A.-based metalhead who will be spinning between sets
• Darkest Prince, lead guitarist for black-metal punks Devil Master
• Victor Vicart of Scottish progressive-metal quintet Dvne
• Laura Dolan, vocalist for Cincinnati rock 'n' roll purists Electric Citizen
• Todd Fink, frontman for electro-pop punks the Faint
• Dylan Walker, frontman for brutal grindcore quartet Full of Hell
• Zack Simmons, drummer for blackened death-metal demigods Goatwhore
• Emil Amos, drummer for experimental post-rock band Grails
• Julien Chanut, guitarist for French sludge-doom band Hangman's Chair
• Tony Campos, guitarist and founder of thrash revivalists Hell Fire
• Nashville cosmic-riff connoisseurs Howling Giant
• Gabriel Franco, vocalist/guitarist for gothy post-punks Idle Hands
• Joshy, drummer for crusty death/doom-metal outfit Ilsa
• Tiger, drummer for German psych/stoner throwback trio Kadavar
• Irita Pai, bassist for all-female punk-rock trio L.A. Witch
• Julian Porte, frontman for L.A. psych-rock collective Levitation Room
• Johanna Sadonis, vocalist for "heavy magic rock" band Lucifer
• Invincible crooner and former Screaming Trees frontman Mark Lanegan
• Stuart Braithwaite, founding guitarist/vocalist for beloved post-rock legends Mogwai
• Kelly Finnigan, frontman for Bay Area psychedelic-soul quartet Monophonics
• Thomas Eriksen, centrifugal force behind true Norwegian black-metallers Mork
• Teddi Tarnoff, frontwoman of "Vegas-based dirty rock 'n' roll band" Mother Mercury
• All-female Motörhead tribute band Motorbabe
• Justin Anthony Maranga, lead guitarist for L.A. hard-rock quintet Night Horse
• Wino, godfather of doom metal and frontman for the Obsessed
• Mikael Åkerfeldt, frontman for Swedish progressive-metal kings Opeth
• Ben Bloom, frontman/guitarist for funk-soul octet Polyrhythmics
• Riley Gale, vocalist for Dallas crossover-trash specialists Power Trip
• Ethan Lee McCarthy, frontman for blackened-doom trio Primitive Man
• Tobias Grave, frontman for shimmering post-rock trio Soft Kill
• Kirpatrick Thomas, vocalist/guitarist/conceptualist for acid-rockers Spindrift
• Experimental rock, alternative hip-hop and dance music guru Tobacco
• Derrick Vella, guitarist of death-metal arsonists Tomb Mold
• Niklas Källgren, guitarist for Swedish fuzz fanatics Truckfighters
• Los Angeles Satanic doo-wop duo Twin Temple
• Kevin Starrs, frontman of British fuzz royalty Uncle Acid and the deadbeats
• Sean Killian, vocalist for cult-favorite Bay Area thrash band Vio-lence
• Mike Hubbard, vocalist-drummer for reunited Massachusetts doom-metal band Warhorse
• Bruce Lamont, frontman for experimental heavy-jazz project Yakuza and Led Zeppelin tribute band Led Zeppelin 2
• Aaron Rieseberg, bassist for Oregon doom-metal dealers Yob
Also, don't miss our special feature in which Deafheaven's Clarke and Mogwai's Braithwaite discuss their mutual affection for each other's bands, whether Deafheaven should play their Mogwai cover at Psycho Las Vegas — and the possibility of a collaboration between the two projects.