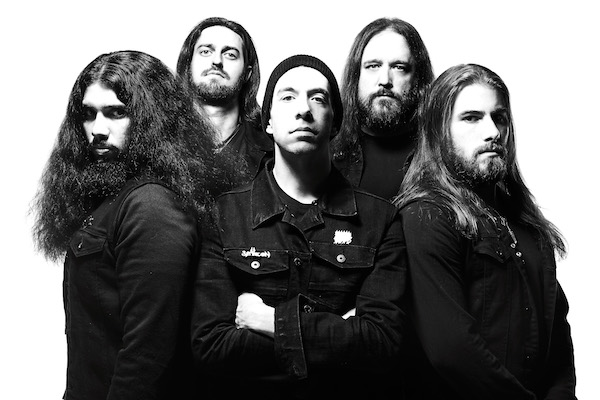 10 August 2019
Photo: Thrown Into Exile
L.A. metal quintet Thrown Into Exile will be thrown into the fray Thursday as the first band to play on the first day of this year's Psycho Las Vegas extravaganza.
OK, so technically, Thrown Into Exile are actually kicking off the festival's pre-party at the daylong Psycho Swim at the Mandalay Bay Resort and Casino. But for all intents and purposes, concertgoers experiencing the entirety of "America's rock 'n' roll bacchanal" will begin their four-day journey/bender with a feisty set by five youngsters inspired by old-school metal.
Thrown Into Exile's set will be a short one, lasting from just 12:15 to 12:45 p.m. But, as the Big Takeover has learned during the 50-plus interviews conducted in anticipation of America's greatest heavy-music festival, many of the bands slotted earliest are actually the ones most excited to perform.
Case in point: When we reached out to Thrown Into Exile for an interview, two members of the band — vocalist Joey Dalo and guitarist Mario Rubio — promptly provided us with enthusiastic answers to the questions we posed. The humble musicians confessed that playing Psycho is a dream come true for the young band, they plan to unveil all-new songs and they hope to inspire a bystander-soaking mosh pit in the pool.
[Note: This email interview was conducted before the Original Misfits replaced Megadeth as Saturday's headliners.]
[Watch our YouTube playlists for videos from each band playing at Psycho on Thursday, Friday, Saturday and Sunday.]
Why is Thrown Into Exile particularly excited to play Psycho? From your point of view, what makes the festival special — both from a performance perspective and as a personal experience?
RUBIO: I been wanting to play Psycho since 2017, when I first heard of the festival and saw King Diamond, Ace Frehely, Gojira and Abbath on the flyer. I remember going, "Holy shit! We gotta play this one day."
What's special is the attention to detail the Psycho crew puts into building these insane, stacked packages and the amazing experience you have while attending. So now to be on the other side, getting to play at it, is a very exciting moment for Thrown Into Exile. Viva Psycho!
DALO: We are excited to play Psycho this August for many reasons. First of all, we always get a lot of love from fans in Vegas when we play here. Also, this will be my first time playing a daytime pool party, so that's pretty exciting in itself. I am beyond stoked to be sharing the stage with so many great bands as well. The diversity of the musical acts really makes this festival so special and exciting as well.
What are your expectations? Will this likely be your biggest crowd to date? Will you be nervous playing for devoted fans of good music — not to mention other musicians, some of whom you probably admire?
RUBIO: I know we are going to have a blast, that's for damn sure! This is definitely our biggest show in Vegas, and we are ready to give every single ounce of ourselves to them. Oh, no doubt there is a handful of musicians that I admire and are guitar heroes of mine on this bill. Break out the metronome, practice and be ready!
DALO: I'm expecting a really fun time with high energy from everyone involved. I know we'll be bringing our A game to this one! Hopefully there will be a good-size crowd when we play. We've played to some pretty big ones over the past few years, and with lots of bands I've always admired, so this won't be nerve-wracking, but sharing the stage with so many great bands will definitely bring out the best in our performance.
Have any members of Thrown Into Exile gone as fans or played with other bands at Psycho? If so, what was that like?
RUBIO: My first Psycho was in 2017. I will call it my Costco-style sample taste as I only went on Sunday to see Abbath and Mastodon. My full-on experience was the following year, and I loved every second. There was always something for me to enjoy at all times, especially watching Danzig do III: How the Gods Kill front to back, and Dimmu Borgir.
DALO: This will be my very first time attending Psycho and playing with the bands on the bill.
Do you have any surprises planned for your Psycho set, whether they be songs you wouldn't normally play, collaborations, etc.?
RUBIO: I wouldn't say we have any big surprises, but we will be playing mainly all-new material, so they will be getting a taste of what our new album sounds like. You won't be hearing much of our last record, Safe Inside.
DALO: We don't have any surprises in store, but we will be bringing our very best performance to the stage. We will also be playing a few songs off our soon-to-be-released new record, so that will be a treat for fans who haven't heard these new tunes yet.
You're presumably playing outside, since you're pegged for the pool party on Thursday, yeah? How do you do performing in temps over 100 degrees?
RUBIO: It's been a minute — well, more like a couple years — since playing in the burning summer sun. But I am ready for it and did just fine. I'll need to switch out for a stage vest over a jacket this time around, haha. Don't forget to wear sunblock. I learned that the hard way on a summer tour we did back in 2013.
DALO: I don't think I've personally ever played outside in temps over 100 degrees, but I'm actually excited for it! I'm mostly excited to play to a crowd that's hanging and partying by the pool. I'll be doing a lot of exercising in the hot L.A. sun this summer to get used to what we can expect to be a scorcher at Psycho.
What other bands are you most excited to see perform at Psycho?
RUBIO: Anyone that knows me knows how much I love Opeth. They are one of my favorite bands, so to say I am excited is an understatement. Also very excited to see Carcass and Megadeth, Triumph of Death, Vio-lence, Goatwhore, Pertubator, Cold Cave and Idle Hands. I recently started listening to them in January, when I saw them open a Psycho-branded show, and I've been a fan ever since. Safe to say I am ready for all bands this weekend!
DALO: I'm super excited to see Megadeth and Opeth, since I've always been a huge fan of both bands. Vio-lence and Goatwhore are two I'm excited for as well. I've also been a big fan of the Faint, Glassjaw and Bad Religion, so these will be exciting acts to catch live.
What friends of yours are also playing at the festival? Who are you planning or hoping to hang with in your downtime? Maybe Mr. Mustaine, since you've cited him as an idol?
RUBIO: Our really good friends in Goatwhore and Vio-lence, which we cannot wait to see and definitely hanging with. Would be awesome to have a drink or hit the roulette table with Mikael Åkerfeldt (Opeth), Bill Steer (Carcass), Tom G. Warrior and definitely Dave Mustaine.
DALO: We had some great hangs with the Vio-lence guys when they played up here in L.A. a few weeks back, so it would be fun to kick it with those guys again. I know when we're not onstage I'll most likely be in with the crowd enjoying all the other bands with my bandmates and friends. I love meeting fans and new people, so I'm excited to see what new experience Psycho will bring about for me!
Tell me something that happened to you in Vegas that was supposed to stay in Vegas?
RUBIO: I don't know what you are talking about.
DALO: Everything that happens in Vegas stays in Vegas. I've got too many wild Vegas stories to count. Maybe if you see me at the show I'll let you in on a couple secrets.
What can fans and newcomers expect from your performance(s) at the festival?
RUBIO: We are coming at you full-force, nonstop, regardless of a blistering hot sun over us. We look forward to banging our heads with you. Start a pit, jump … hell — start a mosh swim circle pit. Let's feed off each other's energy!
DALO: You can expect what we deliver every time: a high-energy show where we hold nothing back. If you haven't seen us live before, I think you'll be pleasantly surprised. We love what we do, and we're honored to be welcomed to Psycho this August! See you there!
For previous installments of the Big Takeover's Psycho Las Vegas preview series, check out our interviews with:
• Archaon, longtime guitarist for Norwegian black-metal vets 1349
• Colin H. Van Eeckhout, vocalist for Belgian post-metal purveyors Amenra
• Jason Shi and Scott Key, singer/guitarist and drummer, respectively, for melodic hard-rock masters ASG
• Jay Bentley, founding bassist for politically progressive punk pros Bad Religion
• Alex Mass, frontman for Austin psych-rock princes the Black Angels
• Stephen McBean, singer/guitarist of long-running psychedelic-rock project Black Mountain
• Jean-Paul Gaster, drummer for "the quintessential American rock band," Clutch
• Jeff Walker, vocalist/bassist for extreme-metal behemoths Carcass
• Greg Meleney, vocalist/guitarist for Portland psych-rock mainstays Danava
• George Clarke, vocalist for shoegaze/black-metal powerhouses Deafheaven
• DJ Painkiller, an L.A.-based metalhead who will be spinning between sets
• Darkest Prince, lead guitarist for black-metal punks Devil Master
• Victor Vicart of Scottish progressive-metal quintet Dvne
• Laura Dolan, vocalist for Cincinnati rock 'n' roll purists Electric Citizen
• Todd Fink, frontman for electro-pop punks the Faint
• Dylan Walker, frontman for brutal grindcore quartet Full of Hell
• Zack Simmons, drummer for blackened death-metal demigods Goatwhore
• Emil Amos, drummer for experimental post-rock band Grails
• Julien Chanut, guitarist for French sludge-doom band Hangman's Chair
• Tony Campos, guitarist and founder of thrash revivalists Hell Fire
• Nashville cosmic-riff connoisseurs Howling Giant
• Gabriel Franco, vocalist/guitarist for gothy post-punks Idle Hands
• Joshy, drummer for crusty death/doom-metal outfit Ilsa
• "Tiger":http://bigtakeover.com/interviews/KadavarPsychoLasVegasPreview, drummer for German psych/stoner throwback trio Kadavar
• Irita Pai, bassist for all-female punk-rock trio L.A. Witch
• Julian Porte, frontman for L.A. psych-rock collective Levitation Room
• Johanna Sadonis, vocalist for "heavy magic rock" band Lucifer
• Invincible crooner and former Screaming Trees frontman Mark Lanegan
• Stuart Braithwaite, founding guitarist/vocalist for beloved post-rock legends Mogwai
• Kelly Finnigan, frontman for Bay Area psychedelic-soul quartet Monophonics
• Thomas Eriksen, centrifugal force behind true Norwegian black-metallers Mork
• Teddi Tarnoff, frontwoman of "Vegas-based dirty rock 'n' roll band" Mother Mercury
• All-female Motörhead tribute band Motorbabe
• Justin Anthony Maranga, lead guitarist for L.A. hard-rock quintet Night Horse
• Wino, godfather of doom metal and frontman for the Obsessed
• Mikael Åkerfeldt, frontman for Swedish progressive-metal kings Opeth
• Ben Bloom, frontman/guitarist for funk-soul octet Polyrhythmics
• Riley Gale, vocalist for Dallas crossover-trash specialists Power Trip
• Ethan Lee McCarthy, frontman for blackened-doom trio Primitive Man
• Mlny Parsonz, singer for Atlanta hard-rock diehards Royal Thunder
• Tobias Grave, frontman for shimmering post-rock trio Soft Kill
• Kirpatrick Thomas, vocalist/guitarist/conceptualist for acid-rockers Spindrift
• Experimental rock, alternative hip-hop and dance music guru Tobacco
• Derrick Vella, guitarist of death-metal arsonists Tomb Mold
• Niklas Källgren, guitarist for Swedish fuzz fanatics Truckfighters
• Los Angeles Satanic doo-wop duo Twin Temple
• Kevin Starrs, frontman of British fuzz royalty Uncle Acid and the deadbeats
• Sean Killian, vocalist for cult-favorite Bay Area thrash band Vio-lence
• Mike Hubbard, vocalist-drummer for reunited Massachusetts doom-metal band Warhorse
• Bruce Lamont, frontman for experimental heavy-jazz project Yakuza and Led Zeppelin tribute band Led Zeppelin 2
• Aaron Rieseberg, bassist for Oregon doom-metal dealers Yob
Also, don't miss our special feature in which Deafheaven's Clarke and Mogwai's Braithwaite discuss their mutual affection for each other's bands, whether Deafheaven should play their Mogwai cover at Psycho Las Vegas — and the possibility of a collaboration between the two projects.