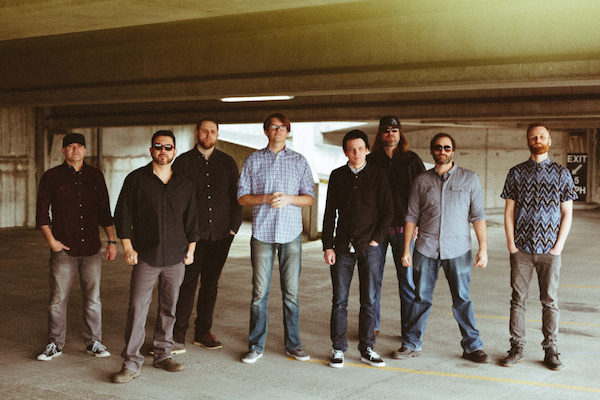 24 July 2019
Photo: Polyrhythmics
It's one thing for a music festival traditionally focused on metal to expand by including post-rock, electro-pop and indie-rock. But funk, soul, R&B and Afrobeat? Yup, Psycho Las Vegas is going there too.
Polyrhythmics, exemplars of those music genres, are the most traditionally "un-Psycho" band on this year's lineup — if not any bill the festival has ever boasted. Featuring guitar, drums, percussion, bass, keys, trumpet, tenor sax, flute and trombone, Polyrhythmics count not Black Sabbath and Slayer as their idols but rather the Meters and Fela Kuti.
Founded in 2010, the virtuosic Seattle octet will perform at the Mandalay Bay Resort and Casino on the final day of the festival, August 18, along with Opeth, Uncle Acid & the deadbeats, Mogwai, and a host of other diverse artists.
Polyrhythmics will play in support of Caldera, their fifth studio album (which they crafted near Mount Hood in rural Oregon), and perhaps their new in-the-works record as well.
.
We caught up with frontman and guitarist Ben Bloom over the phone last month to ask whether he's a closet metalhead and how on earth an eight-piece funk band made it onto the Psycho bill.
[Note: This interview took place before Megadeth canceled their headlining appearance at the festival and were replaced by Misfits.]
Festivals must have to make it worth your while to play at them, since you have so many bandmembers.
BLOOM: It is hard logistically. We typically try to route these events around places we haven't been to in a while. We try not to do too many one-offs because there are so many people coordinating schedules. This one we'll be hitting at the end of our tour. I'm not sure which came first — the booking is out of my perception at least out of the moment. I know we immediately booked a few other things when we got invited.
Did you previously know about Psycho Las Vegas?
BLOOM: I personally was not familiar with it, but a few members of our band were, like our sax player Art Brown. Since we're a different type of booking, when I saw it, I said, "Did they make a mistake?" But I'm excited.
What about the festival has you particularly amped?
BLOOM: The diversity of the lineup and the unique location makes this one intriguing for us. We imagine the band merch and T-shirt-shopping experience to be something special. I've been saving up to buy!
Do you feel like you'll fit in at Psycho?
BLOOM: We play a lot of jazz, blues and jam festivals — but have started getting invited to more eclectic and rock lineups. It's kinda neat to play for people who may not be familiar with our style, and it might expose us to music we don't play. When we're on the road, we go from gig to gig and don't get a chance to explore live music in all the places we stop at. At a festival, we're obviously going to check out that music and meet other players.
And vice-versa, it would seem.
BLOOM: Somehow that was part of the plan by whoever booked it, because we don't fit into a certain mold. I'm along for the ride. Everyone can recognize good music. We have some psych elements. [We should be] a breath of fresh air for some folks.
I think that our live shows in general over the last couple of years have taken a more psychedelic vibe, and that's where we're at now: world/funk influences with psych and rock, and then some modern approaches. That is going to translate nicely at the event. We're going to play a real special show. It's going to be really hot.
What do you have planned for your Psycho set?
BLOOM: One of the things we're planning to do on this run … we're almost done tracking the new record and will play a lot of it that hasn't been released yet. We hope to have record done before our Psycho show and get into release mode after that, put out some songs in the fall. [Then again,] a lot of people at Psycho haven't heard our band at all before.
What are your expectations for the festival?
BLOOM: We expect to get turned on to a lot of great music and have a great time!
Do you prefer playing in the heat or in the cold? Indoors or outdoors?
BLOOM: We live in Seattle, which [has] one of the most temperate environments, so when it's above 70, we start sweating.
Tell me something that happened to you in Vegas that was supposed to stay in Vegas.
BLOOM: We have found the greatest tacos on earth, and they are in Las Vegas.
Can you spill the beans?
BLOOM: Tacos El Gordo. They have the best al fresco tacos. There's another one in Guadalajara. We stumbled on it early. You'd be hard-pressed to find a better taco.
What other bands are you most excited to see perform at Psycho?
BLOOM: Monophonics, Megadeth and the Crazy Adventures of Arthur Brown.
[Check back tomorrow for our interview with Monophonics.]
Oh, so you are a metal fan after all …
BLOOM: I've never seen Megadeth, but I was a huge Megadeth and Metallica fan at the same time, which was controversial among my friends.
What friends of yours are also playing at the festival? Who are you planning or hoping to hang with in your downtime?
BLOOM: Monophonics are our friends, and we always look forward to hanging with them. That band started a little before us. They're a West Coast band and play soul, psych and rock. We became friends with them through touring. We've shared musicians sometimes and have had festival experiences together.
We're the outliers in this scene, so I don't have a specific person I hope to meet at the festival.
What do you plan to do in your downtime?
BLOOM: Well, if you asked the eight members of the Polyrhythmics what they do, they'd each give you a different answer. We're going to enjoy all the experiences there are to have.
What can fans and newcomers expect from your performance(s) at the festival?
BLOOM: We will create the soundtrack to your life. It will be funky. It will be adventurous. You will make bad decisions and also the greatest decisions. We substitute narration for sublime harmonics and rhythmic exploration. You can dance if you wanna.
For previous installments of the Big Takeover's Psycho Las Vegas preview series, check out our interviews with:
• Colin H. Van Eeckhout, vocalist for Belgian post-metal purveyors Amenra
• Jason Shi and Scott Key, singer/guitarist and drummer, respectively, for melodic hard-rock masters ASG
• Jay Bentley, founding bassist for politically progressive punk pros Bad Religion
• Stephen McBean, singer/guitarist of long-running psychedelic-rock project Black Mountain
• Jean-Paul Gaster, drummer for "the quintessential American rock band," Clutch
• Jeff Walker, vocalist/bassist for extreme-metal behemoths Carcass
• Greg Meleney, vocalist/guitarist for Portland psych-rock mainstays Danava
• George Clarke, vocalist for shoegaze/black-metal powerhouses Deafheaven
• DJ Painkiller, an L.A.-based metalhead who will be spinning between sets
• Darkest Prince, lead guitarist for black-metal punks Devil Master
• Victor Vicart of Scottish progressive-metal quintet Dvne
• Laura Dolan, vocalist for Cincinnati rock 'n' roll purists Electric Citizen
• Todd Fink, frontman for electro-pop punks the Faint
• Zack Simmons, drummer for blackened death-metal demigods Goatwhore
• Emil Amos, drummer for experimental post-rock band Grails
• Julien Chanut, guitarist for French sludge-doom band Hangman's Chair
• Tony Campos, guitarist and founder of thrash revivalists Hell Fire
• Nashville cosmic-riff connoisseurs Howling Giant
• Gabriel Franco, vocalist/guitarist for gothy post-punks Idle Hands
• Joshy, drummer for crusty death/doom-metal outfit Ilsa
• Johanna Sadonis, vocalist for "heavy magic rock" band Lucifer
• Invincible crooner and former Screaming Trees frontman Mark Lanegan
• Stuart Braithwaite, founding guitarist/vocalist for beloved post-rock legends Mogwai
• Thomas Eriksen, centrifugal force behind true Norwegian black-metallers Mork
• Teddi Tarnoff, frontwoman of "Vegas-based dirty rock 'n' roll band" Mother Mercury
• All-female Motörhead tribute band Motorbabe
• Mikael Åkerfeldt, frontman for Swedish progressive-metal kings Opeth
• Ethan Lee McCarthy, frontman for blackened-doom trio Primitive Man
• Tobias Grave, frontman for shimmering post-rock trio Soft Kill
• Experimental rock, alternative hip-hop and dance music guru Tobacco
• Derrick Vella, guitarist of death-metal arsonists Tomb Mold
• Niklas Källgren, guitarist for Swedish fuzz fanatics Truckfighters
• Los Angeles Satanic doo-wop duo Twin Temple
• Kevin Starrs, frontman of British fuzz royalty Uncle Acid and the deadbeats
• Sean Killian, vocalist for cult-favorite Bay Area thrash band Vio-lence
• Bruce Lamont, frontman for experimental heavy-jazz project Yakuza and Led Zeppelin tribute band Led Zeppelin 2
• Aaron Rieseberg, bassist for Oregon doom-metal dealers Yob
Also, don't miss our special feature in which Deafheaven's Clarke and Mogwai's Braithwaite discuss their mutual affection for each other's bands, whether Deafheaven should play their Mogwai cover at Psycho Las Vegas — and the possibility of a collaboration between the two projects.