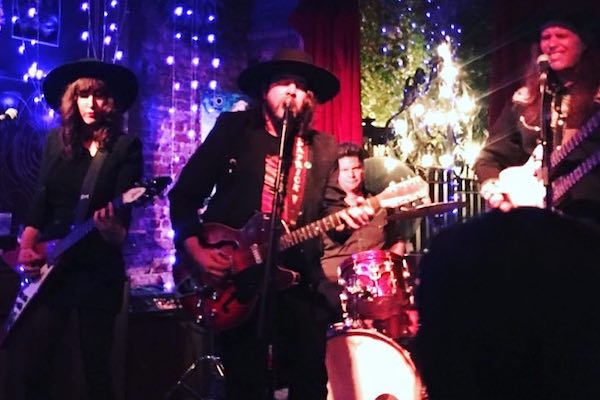 30 July 2019
Photo: Laura Duncan
In recent weeks, we've brought you interviews with Psycho Las Vegas bands whose music encompasses doom (the Obsessed), post-rock (Mogwai), experimental jazz (Yakuza) and even funk-soul (Polyrhythmics). Driving home the point that next month's historically metal-centric festival will feature its most diverse lineup ever, we bring you an interview with the frontman of spaghetti Western-inspired acid-rockers Spindrift.
Vocalist/guitarist/conceptualist Kirpatrick Thomas and his Ennio Morricone-loving bandmates — vocalist/bassist/baritone guitarist Riley Bray, guitarist/vocalist Becca Davidson, and drummer/programmer and sampler Joe Zabielski — are playing Psycho for the first time on August 16, from 9:45 to 10:45 p.m. in the Rhythms & Riffs Lounge at the Mandalay Bay Resort and Casino.
Nonetheless, Thomas gifted us with the most outrageous Vegas story we've published so far. Some of his other stories are also among the most animated and descriptive we've printed in our Psycho Las Vegas preview series, including an anecdote about Matt Pike from High on Fire and Sleep performing impromptu with Spindrift, and Thomas getting heatstroke in Santa Fe. Enjoy.
[Check out our YouTube playlist for videos from each band playing Friday at Psycho, including Spindrift.]
Why are you particularly excited to play Psycho? What makes the festival special — both from a performance perspective and as a personal experience?
THOMAS: I think we're all looking forward to the camaraderie that will be involved —with all the bands that we've performed with in the past playing this year, it's going to be a reunion of sorts. We're no strangers to the Black Angels, Dead Meadow, Black Mountain — it's cool that everyone is still doing their thing.
[Check back soon for our interviews with the Black Angels and Dead Meadow.]
I recall doing a show in the Bay Area where Matt Pike … jumped up onstage and jammed with us. Watching him do a solo over one of our songs was something to behold, for sure. Also, I specifically recall doing some European dates with Graveyard performing at [a theater] in Barcelona to a sold-out crowd for a couple nights.
Looking at this [Psycho] poster again; damn! This lineup rules. We're so humbled to be onboard and, it's going to be great to see everyone.

What are your expectations for your Psycho debut?
THOMAS: This will be Spindrift's first time around, and we're expecting it to be a great weekend, not only performing but checking out all of the other bands. I can't wait to hear Crazy World of Arthur Brown; his vocal stylings have always been a great influence. It's also been a while since I've seen Megadeth play, I have to say one of my top 10 albums of all time is Peace Sells …, so I look forward to seeing them again — revisit my youth.
[Note: We interviewed Thomas before Megadeth dropped off the bill.]
Mark Lanegan is another one of those singers I've always looked up to. I'm pretty sure it's going to live up to expectations. We perform Friday and get all day Saturday to hang out and watch the bands. On Sunday we're headed to another festival! Idyllwild Strong Festival, which is a benefit for the recent fires and damage done over there this last year.
Do you have any surprises planned for your Psycho set, whether they be songs you wouldn't normally play, added stage elements, etc.?
THOMAS: Yes, we have a whole slew of new songs ready to roll from our new album, Classic Soundtracks, Volume 3, which is due out in late September on Alternative Tentacles Records. We're very excited to be working with Jello [Biafra] on this album — this label is legend! You will be hearing a lot of new stuff that's being freshly hashed out in the studio.

Do you prefer playing in the heat or in the cold? Indoors or outdoors? What are the advantages and disadvantages of playing at the time and on the stage where you're scheduled to perform?
THOMAS: No more heat, please! We made the mistake of touring through the South last summer — imagine 100 degree weather, 1,000 percent humidity, four sweaty rockers drenched from playing or loading gear, all piled into the confined space of a Sprinter. I had heatstroke in Santa Fe. I think we all lost like 10 pounds. Not to mention we love to wear cowboy hats and Western wear, which is actually some pretty heavy clothing. Looks good, feels good, except for in the summer — summer is easily the most difficult of all the fashion seasons. As far as this festival, Vegas in summer? I'm assuming it's an indoor venue, right? Right? [Editor's note: It is.] If not, hint hint, wink wink, nudge nudge.

Tell me something that happened to you in Vegas that was supposed to stay in Vegas.
THOMAS: Well, I'm afraid some things have got to stay. One funny story I will tell, however, happened a ways back when we used to be mainstays at this cool club downtown that had a country-Western vibe with cowboy/cowgirl headshots adorning the walls.
After our show, our friend who happened to also be an employee there was more than inebriated, and when his conversation on the bar telephone went sour, he decided to send that phone flying right through the bar, breaking glasses, bottles, etc. He refused to leave upon request.
We were all having breakfast, keeping to ourselves when the bartender started shouting, "Why'd you make me have to do this again?"
At this point he's dragging him on the floor.
"Why? Why? Second time with this — unbelievable!"
He dragged him outside and proceeded to beat him in from of the noonday tourists on the hot concrete steps. We sat mouths agape as our friend got the shit completely kicked out of him. It was too early for that sort of thing. To this day, we call it the Bunkhouse Beatdown. We still perform at the Bunkhouse. It's one of our favorite Vegas spots! Just without the regular beatdown.

What other bands are you most excited to see perform at Psycho?
THOMAS: Corrosion of Conformity. Technocracy was a good [EP]. I don't know if they'll do anything from that obscure old stuff, but I'm hoping they will.

What can fans and newcomers expect from your performance(s) at the festival?
THOMAS: Expect to hear some of our new material … along with our classic spaghetti western soundtrack stuff that we're known for. We've been working closely with Jello to release something really special this time around, and this conglomeration of the band is currently really tight and kicking ass.
Aside from that, we have re-released our 2005 release, Songs From the Ancient Age, which is on vinyl for the first time. Take a listen and enjoy. It will be a great place to preview what we have to offer in the coming months.
For previous installments of the Big Takeover's Psycho Las Vegas preview series, check out our interviews with:
• Colin H. Van Eeckhout, vocalist for Belgian post-metal purveyors Amenra
• Jason Shi and Scott Key, singer/guitarist and drummer, respectively, for melodic hard-rock masters ASG
• Jay Bentley, founding bassist for politically progressive punk pros Bad Religion
• Stephen McBean, singer/guitarist of long-running psychedelic-rock project Black Mountain
• Jean-Paul Gaster, drummer for "the quintessential American rock band," Clutch
• Jeff Walker, vocalist/bassist for extreme-metal behemoths Carcass
• Greg Meleney, vocalist/guitarist for Portland psych-rock mainstays Danava
• George Clarke, vocalist for shoegaze/black-metal powerhouses Deafheaven
• DJ Painkiller, an L.A.-based metalhead who will be spinning between sets
• Darkest Prince, lead guitarist for black-metal punks Devil Master
• Victor Vicart of Scottish progressive-metal quintet Dvne
• Laura Dolan, vocalist for Cincinnati rock 'n' roll purists Electric Citizen
• Todd Fink, frontman for electro-pop punks the Faint
• Zack Simmons, drummer for blackened death-metal demigods Goatwhore
• Emil Amos, drummer for experimental post-rock band Grails
• Julien Chanut, guitarist for French sludge-doom band Hangman's Chair
• Tony Campos, guitarist and founder of thrash revivalists Hell Fire
• Nashville cosmic-riff connoisseurs Howling Giant
• Gabriel Franco, vocalist/guitarist for gothy post-punks Idle Hands
• Joshy, drummer for crusty death/doom-metal outfit Ilsa
• Johanna Sadonis, vocalist for "heavy magic rock" band Lucifer
• Invincible crooner and former Screaming Trees frontman Mark Lanegan
• Stuart Braithwaite, founding guitarist/vocalist for beloved post-rock legends Mogwai
• Kelly Finnigan, frontman for Bay Area psychedelic-soul quartet Monophonics
• Thomas Eriksen, centrifugal force behind true Norwegian black-metallers Mork
• Teddi Tarnoff, frontwoman of "Vegas-based dirty rock 'n' roll band" Mother Mercury
• All-female Motörhead tribute band Motorbabe
• Wino, godfather of doom metal and frontman for the Obsessed
• Mikael Åkerfeldt, frontman for Swedish progressive-metal kings Opeth
• Ben Bloom, frontman/guitarist for funk-soul octet Polyrhythmics
• Ethan Lee McCarthy, frontman for blackened-doom trio Primitive Man
• Tobias Grave, frontman for shimmering post-rock trio Soft Kill
• Experimental rock, alternative hip-hop and dance music guru Tobacco
• Derrick Vella, guitarist of death-metal arsonists Tomb Mold
• Niklas Källgren, guitarist for Swedish fuzz fanatics Truckfighters
• Los Angeles Satanic doo-wop duo Twin Temple
• Kevin Starrs, frontman of British fuzz royalty Uncle Acid and the deadbeats
• Sean Killian, vocalist for cult-favorite Bay Area thrash band Vio-lence
• Mike Hubbard, vocalist-drummer for reunited Massachusetts doom-metal band Warhorse
• Bruce Lamont, frontman for experimental heavy-jazz project Yakuza and Led Zeppelin tribute band Led Zeppelin 2
• Aaron Rieseberg, bassist for Oregon doom-metal dealers Yob
Also, don't miss our special feature in which Deafheaven's Clarke and Mogwai's Braithwaite discuss their mutual affection for each other's bands, whether Deafheaven should play their Mogwai cover at Psycho Las Vegas — and the possibility of a collaboration between the two projects.