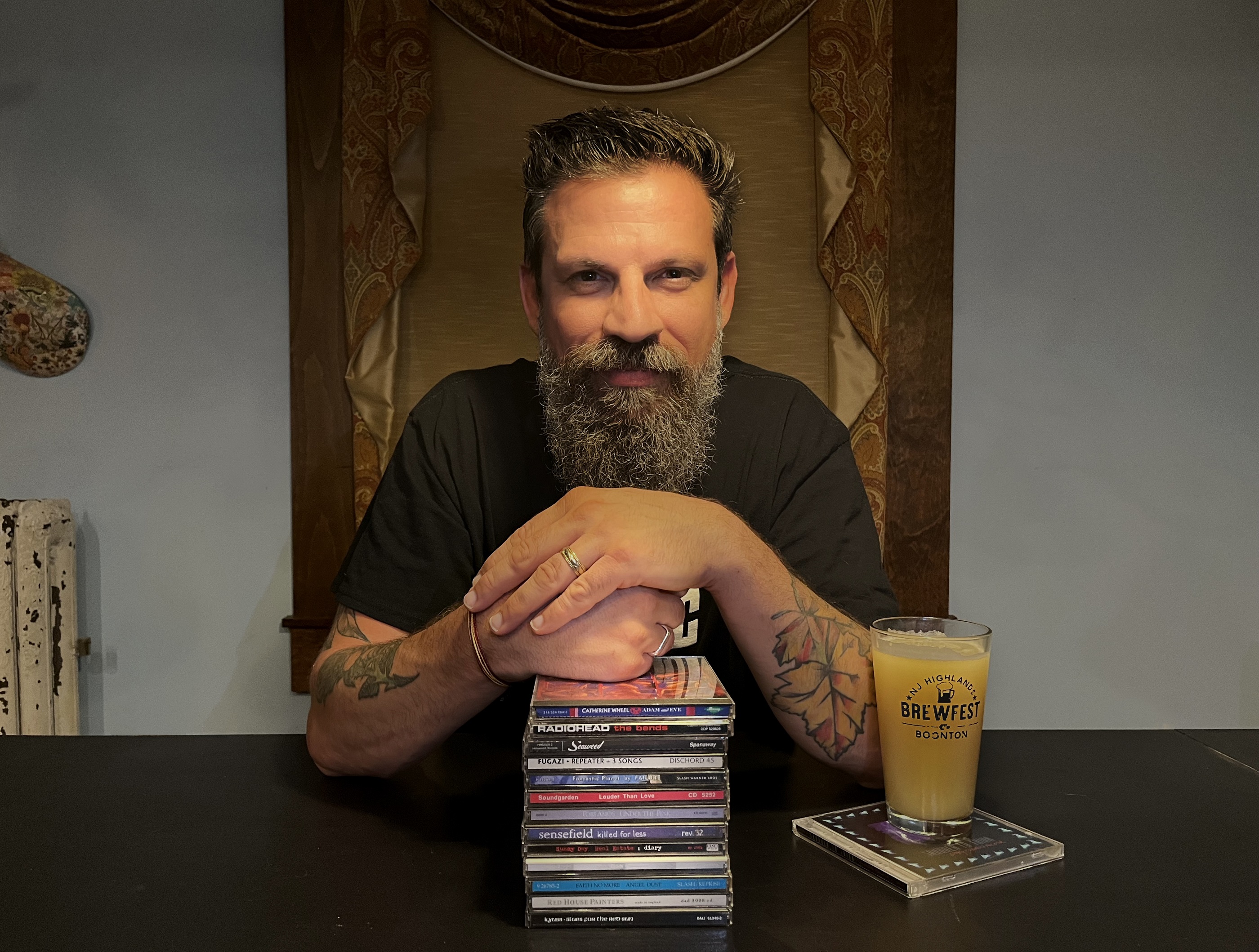 Covert Stations – Motivations & Top 13?
This year, we've run two premieres for the fledgling studio covers' project Covert Stations, led by Craig Cirinelli (Damn This Desert Air, Hidden Cabins, The Atlantic Union Project) in conjunction with a rotating cast of musicians. The two initial revamps, or 'borrowed singles' as the website likes to call them, were recognizable songs by 80's namesakes The Psychedelic Furs (in February) and The Cult (in June) in which the aim was to spin the songs through a 90s rock lens. With the third single on it's way at the end of this month, and since The Big Takeover won't be premiering this round (yet we hope to catch it's drift), we had the idea to get a Top 13 list off Craig of some of his favorite 90s musicians, along with what he'd presume to be his most listened to album from each. He's no fan of top 10s, and by the photo he submitted, couldn't even keep it to 13! Also, we asked for a little background about when and where he found his main motivation in music to have stemmed from and here are the answers gained!
Craig: I'm inspired by the many sub-genres surrounding rock music. I've found its variety attractive, though I do delve outside of rock at times. Music in general, gives me a need to reach into its pockets, whether it be a deep dive to listen, research, converse, or to kick up a project with others to create within the spatial palate of a sound. I haven't been hesitant through my lifetime, to jump into different ponds. It's what ultimately keeps me inspired to challenge myself, inject fresh ideas, push the envelope of self, so-to-speak. I'm currently part of a post-punk band, an ambient progressive band, a heavy rock band, as well as kicked off this throwback covers series that found my way to you. I cut my teeth in post-hardcore, navigated to alternative rock, toured as part of an indie-folk duo, I book acoustic singer-songwriters and jazz musicians and I design album covers and merch for any genre that hires me. Music lifts me in more ways than three.
For some background, I was raised with a childhood full of doo-wop, thanks to my Mother. Soft 70s rock, thanks to my father. 80s glam and classic rock thanks to my brother. I had a rap phase from freshman to sophomore year of high school thanks to some close friends. Then boom—the switch flipped entering the later years of high school and I was split wide open as alternative rock broke. It opened me up to the underground—and boy did I dive into the cracks. Name the genre of punk, indie, metal, grunge, new wave and back again and I had an obsession within it. From that point, life's journey was in front of me—and I'm still journeying.
Top 10 lists feel dubious, thanks for the extra slots, haha. Lists are difficult in general as mood swings and life things get in the way of any stringent tops lists for me, based on the headspace I'm in when asked. I'll lay down some names from the main years music swallowed my focus in life, which felt like "my" discovery, as opposed to absorbing through what was familial. Though there are many others, the following musicians/bands won my memory today:
1. Catherine Wheel (most listened: Adam and Eve)
2. Radiohead (most listened: The Bends)
3. Seaweed (most listened: Spanaway)
4. Fugazi (most listened: Repeater + 3 Songs)
5. Failure (most listened: Fantastic Planet)
6. Soundgarden (most listened: Louder Than Love)
7. Tori Amos (most listened: Under The Pink)
8. Sense Field (most listened: Killed For Less)
9. Sunny Day Real Estate (most listened: Diary)
10. Bjork (most listened: Debut)
11. Faith No More (most listened: Angel Dust)
12. Red House Painters (most listened: Rollercoaster)
13. Kyuss (most listened: Blues for the Red Sun)
Keep up with the evolution of Covert Stations at its home base covertstations.com as well as on social media for the reveal of borrowed single number three as well as the musicians who will deliver it—due out on August 26th!