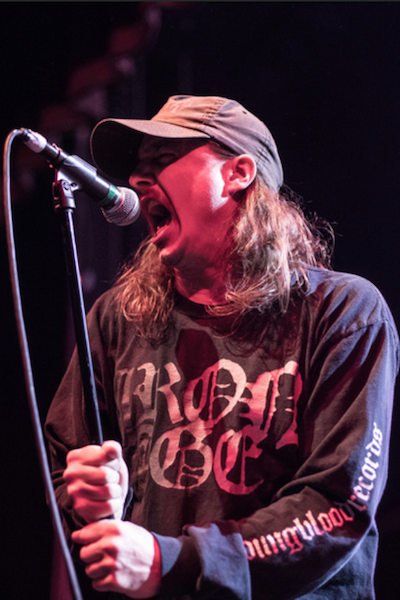 4 August 2019
Photo: Tim Bugbee
Over the course of the Big Takeover's ongoing series profiling bands playing Psycho Las Vegas at the Mandalay Bay Resort and Casino this month, we've interviewed more than 55 of the roughly 70 artists slated for "America's rock 'n' roll bacchanal."
The most divisive question we've asked them is, "Tell me something that happened to you in Vegas that was supposed to stay in Vegas." Most artists have played coy, some have recalled innocuous incidents — but a few have provided us with anecdotes worthy of Vegas' fabled batshit craziness.
Mark Lanegan, ASG and Twin Temple bravely fielded the question with colorful answers — but they're no match for Power Trip frontman Riley Gale. In fact, he told us a couple of yarns that we couldn't wait to share after speaking with him over the phone Sunday night.
First, a little housekeeping: His band has only released two albums, but they already need virtually no introduction. Power Trip's 2017 release, Nightmare Logic, skyrocketed the Dallas quintet to the top of the crossover thrash pack, thanks in particular to the instant underground anthem "Executioner's Tax (Swing of the Axe)."
They've toured exhaustively in support of the album since its release and have a jaunt with fellow Psycho participants High on Fire and Devil Master starting in November. That same month, they're playing the Black Angels' Levitation festival in Austin. [Check back tomorrow for an interview with the Black Angels.]
Power Trip's next gig is at Psycho on August 18, the last day of the fest. They're scheduled to play the outdoor pool stage, called the Beach, from 9:50 to 10:45 p.m. To the dismay of some Psycho attendees, Power Trip's set conflicts with headliner Opeth's performance from 9:30 to 11 p.m. at the larger Event Center.
Riley (who is currently writing material for Power Trip's next record) talked to us about the Opeth conflict, his excitement to see Beach House play at Psycho — but, most importantly, those wild Vegas stories.
[Watch our YouTube playlists for videos from each band playing at Psycho on Thursday, Friday, Saturday and Sunday.]
Hey Riley, what are you up to today?
GALE: Cooking out and just chilling. Things have slowed down, which is quite nice. We have a few shows coming up, but we're not doing a whole lot till November, when we tour with High on Fire. Most the major touring stopped in December last year. After that, we performed with [Psycho headliner] the Original Misfits, and did some warm-up shows and some festivals overseas.
All right, so I hear you have an especially crazy Vegas story to tell me. I'll ask you one of the questions I've posed in all my Psycho interviews: Tell me something that happened to you in Vegas that was supposed to stay in Vegas?
GALE: Yeah, I've got a good one. Last year, we were doing a run with Danzig across the West Coast. We had a layoff date, so we did a headlining show in Las Vegas at the Bunkhouse Saloon right off the old Strip and got a room at the [El] Cortez [Hotel and Casino]. It was our merch dude's birthday, so we decided to celebrate. We had a driving day the following day.
I don't drink much anymore, because my insomnia kicks in bad and I stay up all night. But I decided to have a good time for his birthday. Me and [our] tour manager each kicked in $20, so [along with the merch guy's own $20], he had $60 to start with. We went to a casino off the older strip, played some cheap blackjack, and then our merch guy killed it on the craps table. He turned his $60 into $600.
It was 4 or 5 in the morning, but I wasn't tired and wanted to stay up. I was pretty drunk. A lot of us had heard that our hotel had the loosest slots in Vegas. I looked at TripAdvisor reviews that said the slots near the elevators were especially loose. So I stayed up after 5 a.m. and started winning money back. … I played for like an hour and a half, so it was pushing 7 or 8 a.m.
Things got very hazy, but I spent about $200 in cash and pulled out $300 from the ATM. Eventually I was going to bed and was $60 short of being even. So as I'm walking by to the elevator [to go to the hotel room], I saw a machine called the Shamrock. I'm Irish, and at that point, I was just wasted and thought I'd play it. I played the machine for a bit, but eventually noticed I couldn't press the button anymore. Then I saw that it was because I had won the minor jackpot of $10,000. (The major jackpot was $30,000.)
I was waiting for a floor manager to come over, but almost no one was there. Eventually, the security guard came by and found the manager. She said they had just put the machine in three days ago and didn't think they had it in their system. Meanwhile, I'm so wasted, I'm holding myself up with one hand. I just wanted a glass of water.
Management had to call the Nevada Gaming Commission [to verify the machine]. I thought they were trying to screw me. It took like three hours.
I finally got back to the whole room, and [guitarist] Nick [Stewart] was waking up, I told him the payout was taking forever. I just remember tipping people with $100 bills. Then, one of the worst hangovers I've ever had came on, and it was time to pack up and drive. But I had $10,000.
Our merch guy was like, "You one-upped on me on my birthday." Long story short, our merch guy turned $60 into $600 and thought he was a badass — and I won $10k.
That's the best Vegas story I've heard so far for this series. Even better than the one Levitation Room frontman Julian Porte told me about a "Fear and Loathing"-esque acid trip. [Check back Wednesday for that interview.]
GALE: You know, the very first time I went to Vegas [in 2014], I took a shitload of acid and went on a three-day bender. It was awesome. My friend had a cushy job but lost it in the throes of our acid trip. He was simply supposed to do payroll for his parents' company but forgot.
I remember we were at the Bellagio at the koi pond, and we were betting on which fish would make it to the feeder first. A guy came over and asked us if we were crazy, and we said, "It's Las Vegas, and in Las Vegas, you bet on things."
A friend of ours played craps and went on the hottest streak I've ever seen anyone on — and this was all while he was tripping on acid.
After that, we had to go back to California and play the Scion Rock Fest. We were coming down and had to do an interview with DJ Prince Paul, and no one else wanted to go on camera, so I made our friend come on and pretend to be [guitarist] Blake "Rossover" Ibanez for the interview. So you can see us on YouTube coming down and basically trolling DJ Prince Paul.
Vegas is the perfect place to do acid.
And now you'll be heading back to Vegas to play Psycho for the first time.
GALE: Yeah, we haven't played it before. We saw the really cool lineups over the years and when we were invited, we were excited and said yes. We had to move the scheduling around because we were originally gonna play Friday but had to do Sunday because of a wedding. I'm missing pretty much all the cool shit.
So you won't be there for the whole festival?
GALE: It's my brother's wedding that weekend, so my flight doesn't even get in until Sunday. I have enough time to see Beach House and that's about it. When he told me he was getting married in August, I kept saying, "Please, don't let it be the same weekend as Psycho." But it is.
Why are you particularly excited to play Psycho?
GALE: Psycho Las Vegas was one of the first [festivals] where I was really excited to get there a few days early to experience the fest and stay for a few days and hang out. Hopefully we get invited back again and … make a week of it.
I like how Psycho is on the Strip where, if you don't want to be at the festival, there's an easy escape. A lot of people travel in knowing they can come and go as they please. It's up to you whether you want to see 12 bands or don't. You have a hotel room or can walk the Strip or fuck off and get a four-wheeler in the desert. I think that's what's attributing a lot to the success of the festival. I have a lot of friends in the Dallas area who aren't metalheads but they've made a yearly thing out of it.
I've spoken with quite a few other musicians who are also excited about Beach House in particular.
GALE: We've done plenty of festivals, but Psycho, it's cool to see them expand. [The organizers] are really smart about it: They realize a lot of metal fans really like Beach House, so it's a good choice for a poppier band. And now you have the Original Misfits in Vegas, which is a pretty huge deal. Basically it's the coolest festival on the worst weekend for me.
Are you upset about the set time conflict with Opeth?
GALE: I'm not an Opeth fan but hate any conflict that may draw fans away from our show. It's just a timetable issue. It'll be possible to catch [a portion of the performances by] both bands.
It sounds like you won't have much downtime at Psycho, since you'll be there for such a short period, but what do you typically do at festivals when you're not performing?
GALE: It depends if we have a green room, how many days deep we are into our tour, how many times we play, et cetera. We just got back from Europe playing festivals. There were some days I didn't watch a single band, other days I was bouncing from trying to see Sabaton to Hawkwind to Kiss and watch music for six hours straight. It [depends on] how I'm feeling that day.
Do you have any surprises planned for your Psycho set, whether they be songs you wouldn't normally play, added stage elements, etc.?
GALE: All I know is that our stage is called the Beach. Last I checked, Vegas isn't near a body of water, so I'm not sure what that means. If there's a body of water nearby, maybe we'll buy some inflatable axes.
Maybe there's something we can pull out. But it'll probably be a pretty straightforward Power Trip set.
Speaking of axes, are you surprised by the massive success of "Executioner's Tax (Swing of the Axe)"? It's become ubiquitous in a short two years.
GALE: I knew that song was going to be popular. I knew in the studio that was going to be the hit on the record.
I had the hook for the song in my head before we even did the concept of the song and our first full-length, Manifest Decimation. When we started working on Nightmare Logic, Blake had that song, and it all clicked.
It now has almost 3 million plays on Spotify, which is fucking crazy. A lot of people nominated it as song of the year. I don't know if I can write a song better than that. It can only go downhill from here.
For previous installments of the Big Takeover's Psycho Las Vegas preview series, check out our interviews with:
• Archaon, longtime guitarist for Norwegian black-metal vets 1349
• Colin H. Van Eeckhout, vocalist for Belgian post-metal purveyors Amenra
• Jason Shi and Scott Key, singer/guitarist and drummer, respectively, for melodic hard-rock masters ASG
• Jay Bentley, founding bassist for politically progressive punk pros Bad Religion
• Stephen McBean, singer/guitarist of long-running psychedelic-rock project Black Mountain
• Jean-Paul Gaster, drummer for "the quintessential American rock band," Clutch
• Jeff Walker, vocalist/bassist for extreme-metal behemoths Carcass
• Greg Meleney, vocalist/guitarist for Portland psych-rock mainstays Danava
• George Clarke, vocalist for shoegaze/black-metal powerhouses Deafheaven
• DJ Painkiller, an L.A.-based metalhead who will be spinning between sets
• Darkest Prince, lead guitarist for black-metal punks Devil Master
• Victor Vicart of Scottish progressive-metal quintet Dvne
• Laura Dolan, vocalist for Cincinnati rock 'n' roll purists Electric Citizen
• Todd Fink, frontman for electro-pop punks the Faint
• Dylan Walker, frontman for brutal grindcore quartet Full of Hell
• Zack Simmons, drummer for blackened death-metal demigods Goatwhore
• Emil Amos, drummer for experimental post-rock band Grails
• Julien Chanut, guitarist for French sludge-doom band Hangman's Chair
• Tony Campos, guitarist and founder of thrash revivalists Hell Fire
• Nashville cosmic-riff connoisseurs Howling Giant
• Gabriel Franco, vocalist/guitarist for gothy post-punks Idle Hands
• Joshy, drummer for crusty death/doom-metal outfit Ilsa
• Irita Pai, bassist for all-female punk-rock trio L.A. Witch
• Johanna Sadonis, vocalist for "heavy magic rock" band Lucifer
• Invincible crooner and former Screaming Trees frontman Mark Lanegan
• Stuart Braithwaite, founding guitarist/vocalist for beloved post-rock legends Mogwai
• Kelly Finnigan, frontman for Bay Area psychedelic-soul quartet Monophonics
• Thomas Eriksen, centrifugal force behind true Norwegian black-metallers Mork
• Teddi Tarnoff, frontwoman of "Vegas-based dirty rock 'n' roll band" Mother Mercury
• All-female Motörhead tribute band Motorbabe
• Justin Anthony Maranga, lead guitarist for L.A. hard-rock quintet Night Horse
• Wino, godfather of doom metal and frontman for the Obsessed
• Mikael Åkerfeldt, frontman for Swedish progressive-metal kings Opeth
• Ben Bloom, frontman/guitarist for funk-soul octet Polyrhythmics
• Ethan Lee McCarthy, frontman for blackened-doom trio Primitive Man
• Tobias Grave, frontman for shimmering post-rock trio Soft Kill
• Kirpatrick Thomas, vocalist/guitarist/conceptualist for acid-rockers Spindrift
• Experimental rock, alternative hip-hop and dance music guru Tobacco
• Derrick Vella, guitarist of death-metal arsonists Tomb Mold
• Niklas Källgren, guitarist for Swedish fuzz fanatics Truckfighters
• Los Angeles Satanic doo-wop duo Twin Temple
• Kevin Starrs, frontman of British fuzz royalty Uncle Acid and the deadbeats
• Sean Killian, vocalist for cult-favorite Bay Area thrash band Vio-lence
• Mike Hubbard, vocalist-drummer for reunited Massachusetts doom-metal band Warhorse
• Bruce Lamont, frontman for experimental heavy-jazz project Yakuza and Led Zeppelin tribute band Led Zeppelin 2
• Aaron Rieseberg, bassist for Oregon doom-metal dealers Yob
Also, don't miss our special feature in which Deafheaven's Clarke and Mogwai's Braithwaite discuss their mutual affection for each other's bands, whether Deafheaven should play their Mogwai cover at Psycho Las Vegas — and the possibility of a collaboration between the two projects.