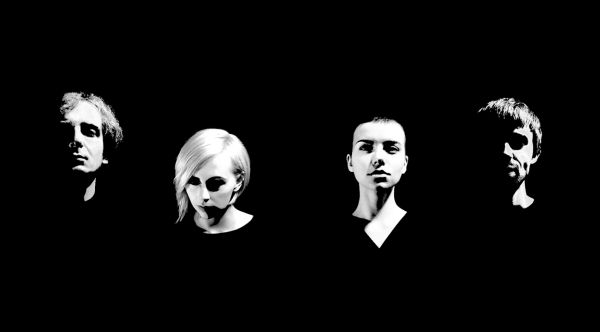 17 October 2017
On The Wane; Photo Credit: Ruslan Onishchenko
Here at The Big Takeover, we do our fair share of globe-trotting, right from the comfort of our armchairs, and today's musical junket takes us to the former Soviet Union – more specifically, to an independent Ukraine. We've previously covered a handful of artists from for ex-USSR – most recently Ummagma, Sounds of Sputnik, Yuri Morozov, and The Dayoffs, the new project of Punk TV founder Vladimir Komarov.
But just now we are landing in Kyiv, the capital of Ukraine and putting on our headphones to absorb the newest offering from four-piece alternative rock outfit On The Wane. Ahead of the release of their album Schism, we have the distinct pleasure of 'breaking' this music to the West – in other words, we've got the premiere of "Human Race", the first single from this collection.
On the Wane is Daria Maksimova (bass, vocals), Anna Lyashok (drums, vocals), Eugene Voitov (guitar), and Eli Demyanenko (guitar). "Human Race" is a beautiful and energetic dark horse running amidst the non-distinctness of a million pop and lethargic rock songs. Although the lyrics may be disturbing, they are realistic in terms of where we are headed as a people.
My human race is going down
Since the dawn of time, we are fading out
In peaceful space, the Earth is spinning on its axis
No force to change nature's laws we are fading out
My human race is going down going down
and all those dying selfish kings in false crowns
My human race is going down going down
My greedy creatures turned on a countdown
highways and roads will be swallowed by woods
rivers and streams will come back to their course
In peaceful space, the Earth will be spinning on its axis
when my human race finally ceases to exist
"Mankind as a race is quite an absurd thing. We strive to survive but we are killing ourselves. We're beautiful and ugly, lovely and cruel but, anyway, we are not infinite," says Daria Maksimova.
The band didn't waste any time after forming in early 2014. They rented a garage, loaded it with equipment (even taking significant lines of credit in order to do this), and then took up residence there for an entire season. After an intensive caffeine- and adrenaline-fueled sleepless October 27-hour session, they had finally recorded their debut album DRY, which they release in December of that year.
Their initial musical output was shaped by the fact that they were influenced by 1980s alternative rock icons such as Sonic Youth, The Cure, Joy Division, Pixies, and Bauhaus, as well as shoegaze icons My Bloody Valentine, Slowdive, and Cocteau Twins, and newer shoegazers Ringo Deathstarr. The next year they released their anxious 6-track Sick EP, which was shaped by a distinctly harder sound of Mudhoney, Fugazi, and similar bands. On The Wane's two releases attracted the attention of Brazilian record label / magazine The Blog That Celebrates Itself, who featured the band and released their track "Sweet Girl" on the Autumn Noises compilation, gaining them wider exposure internationally.
With their new album, the four-piece have become a smooth cohesive force in darkgaze, neo-gothic noise rock. Having listened to the album straight through, there clearly are moments that comfort and excite all at the same time, with parallels to Melody's Echo Chamber, Warpaint, No Joy, and The KVB. With the clear influence of Sonic Youth here, at times they even sound somewhat like a less targeted freestyle Wolf Alice before dashing back into Sonic Youthery. There is no formula here, but they are wonderfully dishing out potent and splendid doses of whatever it is they are on. It's easy to want more and hit the repeat button – on "Human Race" and so many of the other gems on this album.
"For me this album is a transitional state, the first step on the way to something higher. We put a lot of deep thoughts and feelings into this release. A lot of work has been done. This is definitely the best we ever did, and I can only hope that the next release will be even cooler," says drummer Anna Lyashok.
The Schism LP will be released on November 20th digitally and on CD. But you can already pre-order the album through On The Wane's Bandcamp
This live video offers a more intimate sense of the band's essence.
We also invite you to enjoy several more of their tracks, released in the past few years. First up is "Light" from the band's 2015 EP Sick, followed by "Road and Snow" from their debut album DRY.
ON THE WANE
Official Site
Facebook
Bandcamp
YouTube
Instagram
Twitter