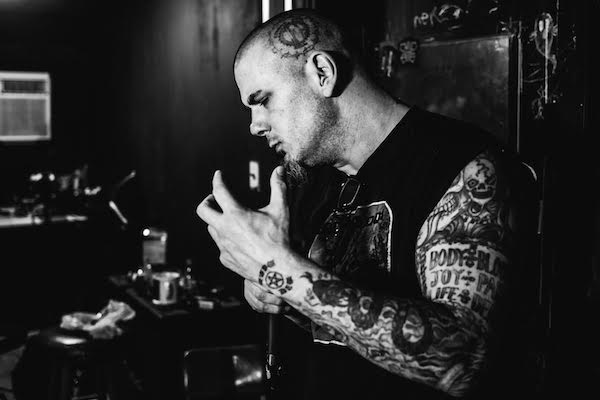 13 August 2019
Photo: Danin Drahos
The most nervous musician playing this year's Psycho Las Vegas festival won't be someone who isn't established, someone in their 20s or even someone who hasn't played the festival before. In fact, it's the best-known musician on the entire festival bill: Philip Anselmo.
On Monday, the iconic former Pantera singer and multi-hyphenate instrumentalist granted the Big Takeover his second-ever interview about En Minor, his long-in-the-works project that will make its live debut Friday night. While Anselmo has membership in Down, Superjoint Ritual, Philip H. Anselmo & the Illegals and too many other bands to count, he surprisingly revealed just how jittery he is about his current affair.
Perhaps it's the intimacy of En Minor: At age 9, when he got his first guitar, Anselmo sketched out songs that he later recorded on a four-track and that would become the project's earliest material. But more likely, it's that the songs are deeply personal and fall well outside the bounds of heavy metal.
In that respect, Anselmo's venture is perfectly suited for the festival to be held at the Mandalay Bay Resort and Casino. Psycho's 2019 lineup is its more diverse — and thus challenging — to date, even if it does feature many familiar names. Anselmo can't go wrong when En Minor closes the House of Blues from 11:30 p.m. to 12:30 a.m. on Friday night. It just happened to be impossible to convince him of that notion during our Monday phone conversation.
[Watch our YouTube playlists for videos from each band playing at Psycho on Thursday, Friday, Saturday and Sunday.]
Hey man, thanks for chatting today. Are you guys gearing up for Psycho?
ANSELMO: Yeah. Yes we are, man. Gosh.
This will be your first time there since 2016 with Down, right?
ANSELMO: That's what I'm told. But this a whole different situation, a whole different band. So honestly, I'm a little nervous.
You've been in so many bands, what makes you nervous about this one? Is it because you started writing songs for it when you were 9 years old?
ANSELMO: That's part of it, but really, everything about En Minor is so different than my other bands. It's delicate, it's gotta be basically in key, it has to be sort of perfect. I'm so used to being in bands where the attitude is we "throw and go" — we set up and play at the drop of a hat. We haven't played live with En Minor before, we don't have that benefit, that luxury really. We have so many different instruments and different dynamics to the set. It's very delicate stuff, man.
I was shocked when I saw the lineup. You have seven guys in the band, and they include not only members of Down and Superjoint but also a cellist and a keyboardist.
ANSELMO: Actually, we have eight players, because I have a guest named Paul Webb, who is a really excellent guitar player from the New Orleans area. Trying to balance out eight different, single-tracked musicians is a challenge.
You've suddenly become a conductor!
ANSELMO: Yeah! I'm waving at my drummer, I'm blowing kisses at the bass players, trying to get everybody to hit their cues when they're supposed to. I don't mind doing that, helping out to make the songs right, but everybody does have their own personal responsibility here.
Why did you choose to debut En Minor at Psycho?
ANSELMO: I didn't really choose it at all. The offer was there.
With a project like this, I have been so unsure of it. "Oh man, do I want to put this out?" "Do I not want to put this out?" The rest of the band, they want to do something. And everybody that works for me, they want the band to do something. And of course, deep in my heart, I, of course, want to do stuff. But I guess my skepticism or indecision … it was kinda of thrust on us. [Eventually,] it was, "Let's do it. Fuck it, let's do it. Jesus."
Were you tempted to release En Minor material sooner?
ANSELMO: We released a four-track song ["The Bird"] on one of our early Housecore compilations [2009's Compilation Volume 1] when I called the project Body & Blood, a name that was early in the mix. The Body & Blood moniker started in '87 or '88 and stuck around until '96 or '97. Of course, I have all the old demos.
As far as pressure of putting it out sooner, I don't think there had been that much pressure, but over the last year, the pressure has gotten thick. I feel the pressure of the impending release now — but only now.
How did you settle on the name En Minor?
ANSELMO: When we were putting the idea of the band together, each song had to be in a minor key. Each song had to be everyone's favorite sad song. It was also thinking of the term "en masse." [Laughs.] It's an avalanche of songs in minor [key]. So, man, bring it on.
Does En Minor have enough material to fill an hourlong slot?
ANSELMO: We've got enough material to fill a three-hour time slot, it's just a matter of which songs we learn [in time for the show].
I will say, this is an infectious thing. When we get together — even when we're going over stuff we've played for five years — we always end up writing something new when we're together. And we're very well aware that the majority of people have never heard one note of this stuff, so it'll be new to most of them anyway. So they won't know if what we're playing is on the first record or being written for the second record. We're trying to pick our best stuff.
Are you nervous because you think Psycho attendees will come with certain expectations of what an Anselmo project will sound like?
ANSELMO: All of the above. Coming in with expectations … you shouldn't. It really is a different thing for me that I don't think I've touched on in such a way with music before. Because there is a lot of attitude and style that, like with any project that I do — whether it be death metal, black metal, traditional metal, Down-style metal — I'm going to have little difference nuances with my voice, and En Minor is no different. People are going to hear a different side to the way I sing. How they digest it is completely up to them.
What is it that you like about Psycho in particular, as a festival experience?
ANSELMO: What I remember, and what everyone has reminded me, is that it's a very eclectic setting and very eclectic … festival. Aside from doing our own show, what better place to do it, where people's minds are open? Just as long as it's very clear — and I think it is at this point — that what we're going to do is really not heavy metal. It's actually — I'll even throw this one out there — "anti-pop." As long as they know that and their minds are open, I think Psycho is a fine place to debut.
And buddies you're looking forward to say hi to in Vegas?
ANSELMO: I have no idea man, honestly, I've been so busy doing this. Our 7-inch just came out, I haven't looked at one inch of reaction, I haven't looked at anything. Most of that is purposeful, because if people love it or hate it, it shouldn't affect me in any shape or form. I'm still doing it regardless.
I'm just trying to improve with the rest of the band over the last week or so, man. There has been a couple of lineup changes — even the picture on the back of the 7-inch is pretty damn different. And on top of that, Jimmy Bower — who plays drums for us — is in Europe on tour with Eyehategod, which is understandable and fine. And respected — like all my other bands, it has musicians from other bands. We got Blue [Joey Gonzalez] from the Illegals sitting in. He's a young player, so trying to get him up to speed is a challenge.
It's really a challenge for everybody, especially for those who have played blaring heavy metal for years. That's all I'm doing, trying to get better with the band. I don't even know who's playing the damn fest.
On the day you're playing, Friday, there's going to be Electric Wizard, Fu Manchu, High on Fire, Goatwhore, Yob, Godspeed You! Black Emperor, Devil Master. Will you be at Psycho for the whole weekend?
ANSELMO: Uh, no. Well, that sounds like a bunch of metal. I wasn't really paying attention. Well, now I'm more nervous, you bastard! It's all right.
I've talked with about 50 bands playing this festival, and the word that keeps coming up is "authenticity." The fans who are going and the bands that are playing want heartfelt, original music, regardless of genre. Anything over-commercialized is what would seem to turn people off. So I think you're going to be just fine.
ANSELMO: Well, sounds real good, sounds fine. I'm still nervous, ugh. Goddammit!
When was the last time you've been this nervous to play a gig?
ANSELMO: Oh, shit. This nervous? Man, 35 years ago? How old am I? 51. You do the math. I guess I did my first gig when I was 14, 15, something like that, man. Jesus, I swear to God, I'm slightly sweating just talking about it. Then again, it is 112 here today [in New Orleans].
Maybe to ease some of the pressure, let's switch gears and have you tell me your best Vegas story.
ANSELMO: Oh, man. I don't think the Vegas audience would agree, but easily the Megadeth/Pantera/Type O Negative show. It was the last night of the tour and we had had an awesome time with Type O Negative. We would bedevil them every single night. We would throw rubber dinosaurs at them during their set. I'd put raw squid on Pete Steele's microphone and hit him with asparagus while they played.
But their revenge was not to be overshadowed or downplayed. After they played and before we were to go on, they went into the audience and gave strategic numbers of people from different angles full, super-size packages of toilet paper. And man, I don't think we made it through three songs. It was impossible to play the gig. But it was hilarious. It was so thick with toilet paper, it was ankle- to calf-deep at some points onstage. I remember being stuck in toilet paper and I was looking over at Pete Steele looking at Dimebag flailing away doing a guitar solo and jamming and the look on the crowd's face was just incredulous. "What is going on? Did I pay for this?" It was unforgettable.
So, in closing, what can Psycho attendees expect from En Minor's set?
ANSELMO: Just remember, very clearly, that this is not party music. It is kill the party music. Be prepared to be entertained in a very different way. Come on in with an open mind and hopefully you'll leave — God, this makes me so nervous! Jesus Christ. Just know that I'll be nervous as shit, and maybe people can have fun with that. Goddamit.
And bring toilet paper.
ANSELMO: No! Not this time, please. No toilet paper this time! Wait till our fifth tour to do that. I'm already nervous enough. Jesus, Kurt.
[Check back tomorrow for our final pre-Psycho Las Vegas interview, with Anselmo pal and Down member Pepper Keenan, whose Corrosion of Conformity headlines Thursday's pre-party.]
For previous installments of the Big Takeover's Psycho Las Vegas preview series, check out our interviews with:
• Archaon, longtime guitarist for Norwegian black-metal vets 1349
• Colin H. Van Eeckhout, vocalist for Belgian post-metal purveyors Amenra
• Jason Shi and Scott Key, singer/guitarist and drummer, respectively, for melodic hard-rock masters ASG
• Jay Bentley, founding bassist for politically progressive punk pros Bad Religion
• Alex Mass, frontman for Austin psych-rock princes the Black Angels
• Stephen McBean, singer/guitarist of long-running psychedelic-rock project Black Mountain
• Zak Quiram, vocalist for hardcore newcomers Candy
• Jean-Paul Gaster, drummer for "the quintessential American rock band," Clutch
• Jeff Walker, vocalist/bassist for extreme-metal behemoths Carcass
• Greg Meleney, vocalist/guitarist for Portland psych-rock mainstays Danava
• Jason Simon, singer/guitarist for perennial psych-rock Psycho participants Dead Meadow
• George Clarke, vocalist for shoegaze/black-metal powerhouses Deafheaven
• DJ Painkiller, an L.A.-based metalhead who will be spinning between sets
• Darkest Prince, lead guitarist for black-metal punks Devil Master
• Victor Vicart of Scottish progressive-metal quintet Dvne
• Laura Dolan, vocalist for Cincinnati rock 'n' roll purists Electric Citizen
• Todd Fink, frontman for electro-pop punks the Faint
• Scott Hill, singer/guitarist for desert-rock demigods Fu Manchu
• Dylan Walker, frontman for brutal grindcore quartet Full of Hell
• Zack Simmons, drummer for blackened death-metal demigods Goatwhore
• Emil Amos, drummer for experimental post-rock band Grails
• Julien Chanut, guitarist for French sludge-doom band Hangman's Chair
• Tim Macuga, one-half of experimental "doom-gaze" project Have a Nice Life
• Tony Campos, guitarist and founder of thrash revivalists Hell Fire
• Nashville cosmic-riff connoisseurs Howling Giant
• Gabriel Franco, vocalist/guitarist for gothy post-punks Idle Hands
• Joshy, drummer for crusty death/doom-metal outfit Ilsa
• Tiger, drummer for German psych/stoner throwback trio Kadavar
• Irita Pai, bassist for all-female punk-rock trio L.A. Witch
• Julian Porte, frontman for L.A. psych-rock collective Levitation Room
• Johanna Sadonis, vocalist for "heavy magic rock" band Lucifer
• Invincible crooner and former Screaming Trees frontman Mark Lanegan
• Stuart Braithwaite, founding guitarist/vocalist for beloved post-rock legends Mogwai
• Kelly Finnigan, frontman for Bay Area psychedelic-soul quartet Monophonics
• Thomas Eriksen, centrifugal force behind true Norwegian black-metallers Mork
• Teddi Tarnoff, frontwoman of "Vegas-based dirty rock 'n' roll band" Mother Mercury
• All-female Motörhead tribute band Motorbabe
• Justin Anthony Maranga, lead guitarist for L.A. hard-rock quintet Night Horse
• Wino, godfather of doom metal and frontman for the Obsessed
• Mikael Åkerfeldt, frontman for Swedish progressive-metal kings Opeth
• Ben Bloom, frontman/guitarist for funk-soul octet Polyrhythmics
• Riley Gale, vocalist for Dallas crossover-trash specialists Power Trip
• Ethan Lee McCarthy, frontman for blackened-doom trio Primitive Man
• Mlny Parsonz, singer for Atlanta hard-rock diehards Royal Thunder
• Tobias Grave, frontman for shimmering post-rock trio Soft Kill
• Kirpatrick Thomas, vocalist/guitarist/conceptualist for acid-rockers Spindrift
• Joey Dalo and Mario Rubio, vocalist and guitarist, respectively, for L.A. metal quintet Thrown Into Exile
• Experimental rock, alternative hip-hop and dance music guru Tobacco
• Derrick Vella, guitarist of death-metal arsonists Tomb Mold
• Niklas Källgren, guitarist for Swedish fuzz fanatics Truckfighters
• Los Angeles Satanic doo-wop duo Twin Temple
• Kevin Starrs, frontman of British fuzz royalty Uncle Acid and the deadbeats
• Sean Killian, vocalist for cult-favorite Bay Area thrash band Vio-lence
• Mike Hubbard, vocalist-drummer for reunited Massachusetts doom-metal band Warhorse
• Bruce Lamont, frontman for experimental heavy-jazz project Yakuza and Led Zeppelin tribute band Led Zeppelin 2
• Aaron Rieseberg, bassist for Oregon doom-metal dealers Yob
Also, don't miss our special feature in which Deafheaven's Clarke and Mogwai's Braithwaite discuss their mutual affection for each other's bands, whether Deafheaven should play their Mogwai cover at Psycho Las Vegas — and the possibility of a collaboration between the two projects.