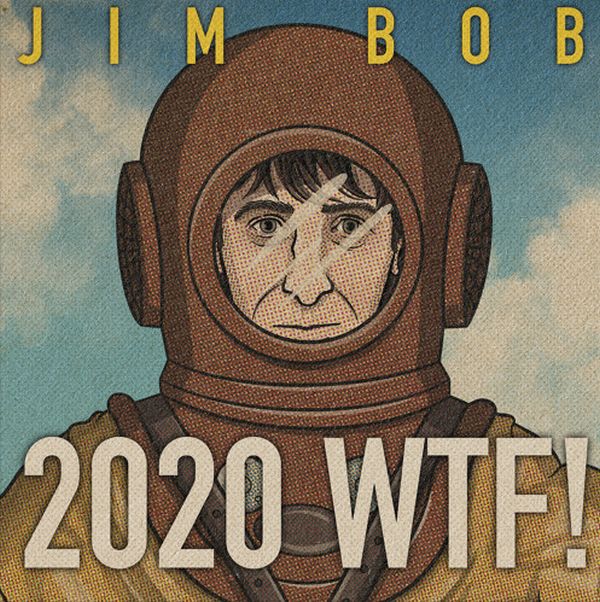 AS ALWAYS, CLICK ON THE 'READ MORE' BUTTON TO GET DETAILS ABOUT SONGS, VIDEOS, ALBUMS, & ARTISTS/BANDS.
1. Jim Bob – "2020 WTF!"
Y'know, him out of Carter The USM w/ Fruitbat from way back when (prime-time '90s, UK, and onward). I saw them live supporting EMF at the time and they crushed it, and Jim Bob's still in fine scathing form on this track that pretty much sums up what we're all thinking about this year…,
2. Bob Mould – "American Crisis"
Big Takeover #86 cover star (and also splitting the cover with Lush for issue #34). American music legend.Hüsker Dü. Sugar. Ummm, Bob Mould. What more needs to be said?!
3. Melt Downer – "Gross White"
Noise rock trio who recently released their self-titled album via Austrian label Numavi Records. Per PR info, "With the world going down the drain once again Melt Downer keeps swimming against the stream – the mainstream, the male stream. Arrested in the present, all eyes on the patriarchal past, fearing a future of going backwards."
Song lyrics: "Face this gross white part of you / Look at this shit to get a sense for the guilt."
4. Bestial Mouths – "In Ruins"
This Berlin-based (by way of NYC and LA) darkwave/post-punk outfit unleashes their new album RESURRECTEDINBLACK on July 5th. This menacing number features Gothic-noir atmospherics and glowering, gloomy vocals from frontwoman Lynette Cerezo.
MY SONG PREMIERE of "Worn Skin" (Jürgen of Die Krupps remix) by Bestial Mouths
"LAIN TO RUST" video:
5. Mare Island – "Fortuna"
Oakland, CA-based indie rock/dream-pop band return with the single after releasing their heartfelt and reflective to vibrant self-titled EP in 2017. Check out the potent, poetic lyrics at their Bandcamp
MY ALBUM PREMIERE of Mare Island by Mare Island
"Anon" video:
6. Secret Shame – "Dissolve"
This acclaimed Asheville, NC-based post-punk/darkwave band released their captivating debut album, Dark Synthetics, last year, and now they've unveiled a "Dissolve"/"Pure" 7" that expands on their dark sound, adding a more dreamily wistful element to it.
"Creature" featured in MY TOP 10 SONGS SoundCloud playlist from September 27, 2019
7. Hatchie and The Pains of Being Pure at Heart – "Sometimes Always" (JAMC cover)
Two darlings of the indie music press come together for some lovin' times covering a Jesus And Mary Chain classic.
"Sure" by Hatchie featured on Jack Rabid's THE BIG TAKEOVER SHOW , #153 from December 25, 2017
8. Liar, Flower – "Broken Light"
The always-intriguing Katiejane Garside and her music/life partner Chris Whittingham have segued from their alt-folk noir duo Ruby Throat to this new iteration which retains musical bits from Ruby Throat, as well as Garside's other alt-/noise rock bands, QueenAdreena and Daisy Chainsaw, depending upon the song found on their new captivating to compelling album Geiger Counter, out now via One Little Indian –
the label which is as of today (Friday, June 12th) is now known as One Little Independent Records (OLI Records). The owner was made aware of the racist implications of the original name, and has implemented sweeping change to his label, including the name change and logo removal. You can read the owner's official statement HERE
MY SONGPREMIERE of "Geiger Counter" by Liar, Flower, and in the latest issue of Big Takeover magazine, #86, my long interview with Katiejane and Chris, as well as my album review of Geiger Counter. Not to be missed!
9. Deradoorian – "Monk's Robes"
LA/NYC artist Angel Deradoorian's (ex- Dirty Projectors) next album, Find the Sun, comes out this September 18th via ANTI-.She unveils a mesmerizingly meditative number here.
Ryan Gabos' ALBUM REVIEW of Eternal Recurrance from 2017 by Deradoorian.
10. Forest Bees – "Alexa"
Sweet dreamy sonic nectar that creates a new dimension in the dream-pop sphere with its intoxicating off-kilter atmospherics. Self-titled album just released (June 12th). San Francisco-based artist Sheetal Singh (formerly of shoegaze outfit The Stratford 4) states, ""Alexa" is a disquieting meditation on isolation, connection, and the looming power of technology mediating our interactions. Though written before the Coronavirus pandemic, it is all the more resonant in the current moment of social distancing and Zoom happy hours."