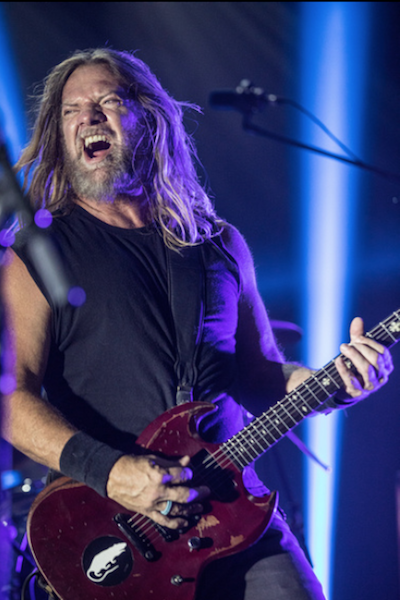 14 August 2019
Tim Bugbee
"Psycho has the biggest number of killer bands on a festival bill. Damn." —Pepper Keenan
And tomorrow, it begins. At last.
When the Big Takeover started publishing interviews with Psycho Las Vegas bands on May 20, we had no idea how many of the 70-odd participants would be up for chatting with us about the best heavy-rock festival in the U.S. Turns out 59 of them did, from Mikael Åkerfeldt of Opeth to Wino of the Obsessed to Uncle Acid to Mark Lanegan.
It's been a wild ride, as they say — but now the real fun is here. Starting at 12:15 p.m. on Thursday, the Mandalay Bay Resort and Casino will begin hosting bands for four days. While tomorrow's event isn't officially considered part of the festival, the daylong poolside pre-party may as well be, as it features luminaries like Lucifer, Idle Hands, ASG and Danava.
Headlining the "Psycho Swim" event will be Corrosion of Conformity, so we thought it apropos to peg our recent phone conversation with frontman Pepper Keenan as the last interview in our series. (It's even more fitting that we published an interview with his Down comrade and good buddy Philip Anselmo yesterday.)
We still have a couple of fun bonus Psycho features in store, so stay tuned for those in the next day or two. But until then, kick back and enjoy our talk with Keenan — before the insanity that is Psycho Las Vegas 2019 gets under way.
[Watch our YouTube playlists for videos from each band playing at Psycho on Thursday, Friday, Saturday and Sunday.]
What are you up to today, Pepper?
KEENAN: Believe it or not, I'm watching a Lynyrd Skynyrd documentary. I'm on a tour bus outside Illinois, right outside St. Louis. It just popped up on the damn satellite. I ain't never seen it.
You played in 2016 with Down and 2017 with COC. Do you have any particularly fond memories of those performances?
KEENAN: The fest was great all around, I don't care who I'm playing with. The way they've got it set up … it's not really a hipster thing, but it's cool.
[Psycho] was a long time coming. There's a lot of festivals like [it] in Europe and the U.K. But it's really the first and biggest one in the States. The [previous] times I was there, I saw Candlemass, King Diamond, Cirith Ungol …
You've played countless festivals at this point. Which other one most closely resembles Psycho?
KEENAN: Psycho has the biggest number of killer bands on a festival bill. Damn.
What's the atmosphere like backstage at Psycho?
KEENAN: It's always fun to catch up in Vegas, at the pool, at the casino, the whole nine yards.
Do you gamble?
KEENAN: Unfortunately, I've been been gambling my whole life. [Laughs.]
What's your game?
KEENAN: Whatever. I play roulette, but it's not like I have to hit the ATM machine or anything.
Are you going to play mostly material from 2018's No Cross No Crown?
KEENAN: It depends. We do a different itinerary every night. It's a pool party, so we might play some of our more fun songs. "Who's Got the Fire," shit like that. I don't even know how long the set is. Right now, we're on tour and doing a set that's an hour and 45 minutes. So we'll have to shave it down.
A lot of our stuff is pretty unbridled and not mapped out. We don't have click tracks and go into different directions with our songs. There's some moments that are off the cuff. We have our standards that we start and end with, but we wing it, and we're not that organized. Each band member can write the setlist that night. Or between songs we just put "dealer's choice," and any band member chooses.
Any chance you'll pull out your cover of Queen's "Son and Daughter" from your new record?
KEENAN: We did that one time in England, it was a one-off thing there. But it's possible. We've got so many damn songs, you know. But we won't be playing anything new.
When were you invited to play Psycho?
KEENAN: Five months ago. It had been set up for a while. We had to keep our mouths shut.
Will you be sticking around for the entire festival?
KEENAN: We have to leave that night and go to our next show [in Tuscon, Arizona, on Friday]. So we won't be able to hang, unfortunately. I wish we were staying longer.
Are you going to try to catch any other bands on Thursday while you're there?
KEENAN: I'd like to see Danava, they're at the same pool party as we are and are great friends of mine. Fucking awesome. We know ASG too.
Do you think you'll invite any guys from those bands to perform with you?
KEENAN: We'll figure it out when we get there. "Wanna come jam?" Maybe Danava.
Are you pleased to be playing the pool?
KEENAN: The Mandalay pool is fucking awesome. It's like you're in Thailand or something. It's a whole different ballgame.
Did you push to play at the pool?
KEENAN: [The organizers] suggested it, and I said it was perfect for us. I saw Weedeater play at the [Hard Rock pool stage] a couple of years ago. It's a great way to kick the whole [festival] off.
And a great way to celebrate your 30th anniversary in COC.
KEENAN: Shit, don't tell me that. Feels like yesterday. Actually, like a different lifetime ago. We play better now. We're just rolling with it, doing our own thing. We've played with the big dogs and at the biggest stadiums. It's hard to get there but even harder to stay there.
What advice do you have for younger bands?
KEENAN: Stay in tune! That's important. Honestly, time makes something evolve. So whatever you're doing, create a fanbase — and hang with your fans.
What can fans and newcomers alike expect from COC's set?
KEENAN: Volume. Volume and a pool, dude. We drop the hammer.
For previous installments of the Big Takeover's Psycho Las Vegas preview series, check out our interviews with:
• Archaon, longtime guitarist for Norwegian black-metal vets 1349
• Colin H. Van Eeckhout, vocalist for Belgian post-metal purveyors Amenra
• Jason Shi and Scott Key, singer/guitarist and drummer, respectively, for melodic hard-rock masters ASG
• Jay Bentley, founding bassist for politically progressive punk pros Bad Religion
• Alex Mass, frontman for Austin psych-rock princes the Black Angels
• Stephen McBean, singer/guitarist of long-running psychedelic-rock project Black Mountain
• Zak Quiram, vocalist for hardcore newcomers Candy
• Jean-Paul Gaster, drummer for "the quintessential American rock band," Clutch
• Jeff Walker, vocalist/bassist for extreme-metal behemoths Carcass
• Greg Meleney, vocalist/guitarist for Portland psych-rock mainstays Danava
• Jason Simon, singer/guitarist for perennial psych-rock Psycho participants Dead Meadow
• George Clarke, vocalist for shoegaze/black-metal powerhouses Deafheaven
• DJ Painkiller, an L.A.-based metalhead who will be spinning between sets
• Darkest Prince, lead guitarist for black-metal punks Devil Master
• Victor Vicart of Scottish progressive-metal quintet Dvne
• Laura Dolan, vocalist for Cincinnati rock 'n' roll purists Electric Citizen
• Philip Anselmo, whose new project En Minor is making its live debut at Psycho
• Todd Fink, frontman for electro-pop punks the Faint
• Scott Hill, singer/guitarist for desert-rock demigods Fu Manchu
• Dylan Walker, frontman for brutal grindcore quartet Full of Hell
• Zack Simmons, drummer for blackened death-metal demigods Goatwhore
• Emil Amos, drummer for experimental post-rock band Grails
• Julien Chanut, guitarist for French sludge-doom band Hangman's Chair
• Tim Macuga, one-half of experimental "doom-gaze" project Have a Nice Life
• Tony Campos, guitarist and founder of thrash revivalists Hell Fire
• Nashville cosmic-riff connoisseurs Howling Giant
• Gabriel Franco, vocalist/guitarist for gothy post-punks Idle Hands
• Joshy, drummer for crusty death/doom-metal outfit Ilsa
• Tiger, drummer for German psych/stoner throwback trio Kadavar
• Irita Pai, bassist for all-female punk-rock trio L.A. Witch
• Julian Porte, frontman for L.A. psych-rock collective Levitation Room
• Johanna Sadonis, vocalist for "heavy magic rock" band Lucifer
• Invincible crooner and former Screaming Trees frontman Mark Lanegan
• Stuart Braithwaite, founding guitarist/vocalist for beloved post-rock legends Mogwai
• Kelly Finnigan, frontman for Bay Area psychedelic-soul quartet Monophonics
• Thomas Eriksen, centrifugal force behind true Norwegian black-metallers Mork
• Teddi Tarnoff, frontwoman of "Vegas-based dirty rock 'n' roll band" Mother Mercury
• All-female Motörhead tribute band Motorbabe
• Justin Anthony Maranga, lead guitarist for L.A. hard-rock quintet Night Horse
• Wino, godfather of doom metal and frontman for the Obsessed
• Mikael Åkerfeldt, frontman for Swedish progressive-metal kings Opeth
• Ben Bloom, frontman/guitarist for funk-soul octet Polyrhythmics
• Riley Gale, vocalist for Dallas crossover-trash specialists Power Trip
• Ethan Lee McCarthy, frontman for blackened-doom trio Primitive Man
• Mlny Parsonz, singer for Atlanta hard-rock diehards Royal Thunder
• Tobias Grave, frontman for shimmering post-rock trio Soft Kill
• Kirpatrick Thomas, vocalist/guitarist/conceptualist for acid-rockers Spindrift
• Joey Dalo and Mario Rubio, vocalist and guitarist, respectively, for L.A. metal quintet Thrown Into Exile
• Experimental rock, alternative hip-hop and dance music guru Tobacco
• Derrick Vella, guitarist of death-metal arsonists Tomb Mold
• Niklas Källgren, guitarist for Swedish fuzz fanatics Truckfighters
• Los Angeles Satanic doo-wop duo Twin Temple
• Kevin Starrs, frontman of British fuzz royalty Uncle Acid and the deadbeats
• Sean Killian, vocalist for cult-favorite Bay Area thrash band Vio-lence
• Mike Hubbard, vocalist-drummer for reunited Massachusetts doom-metal band Warhorse
• Bruce Lamont, frontman for experimental heavy-jazz project Yakuza and Led Zeppelin tribute band Led Zeppelin 2
• Aaron Rieseberg, bassist for Oregon doom-metal dealers Yob
Also, don't miss our special feature in which Deafheaven's Clarke and Mogwai's Braithwaite discuss their mutual affection for each other's bands, whether Deafheaven should play their Mogwai cover at Psycho Las Vegas — and the possibility of a collaboration between the two projects.