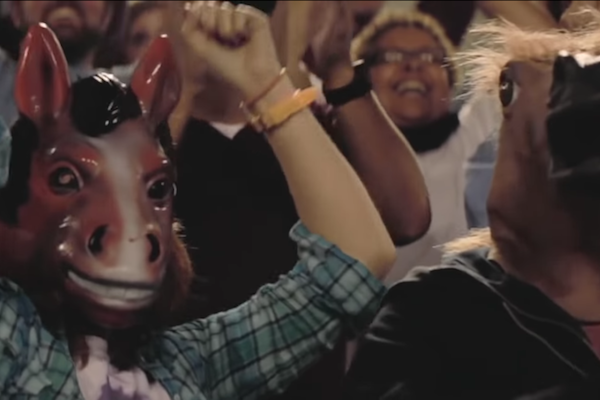 20 July 2019
Photo: Beach House/Eric Wareheim
With Psycho Las Vegas a mere four weeks away, the time is nigh to get familiar with the sounds of the 70-plus bands performing at the best rock festival in the U.S. Starting officially from August 16 to August 18 at the Mandalay Bay Resort and Casino (unofficially on August 15, if you count the daylong pre-party), the fest will be headlined by the Original Misfits, Electric Wizard and Opeth.
While those punk, doom and prog masters are diverse in and of themselves, "America's rock 'n' roll bacchanal" will feature a slew of bands encompassing a wide range of other genres, including post-rock, electronic, punk, black metal and psychedelic soul.
To give you a taste of the panoply of musical strains in store for the long weekend, we've assembled YouTube playlists for each day of the festival (including the pre-party). The playlists are ordered based on the festival billing, with the headliners kicking off each list of videos.
Sticklers be forewarned: The playlists don't include a video by En Minor, the new project featuring Philip H. Anselmo and other members of Down and Superjoint Ritual, because they don't have one yet. The playlists also don't include videos by DJ Painkiller or the podcast "Two Minutes to Late Night."
We covered the rest of the bases, though. Click on the hyperlinked band names (or scroll past the playlists) for the Big Takeover's recent interviews with them about Psycho Las Vegas. Many more interviews to come in the lead-up to August 15!
THURSDAY (8.15) PRE-PARTY LINEUP
Corrosion of Conformity – "Albatross"
Lucifer – "Dreamer"
Danava – "Where Beauty and Terror Dance"
ASG – "Lightning Song"
Primitive Man – "Loathe"
Idle Hands – "By Way of Kingdom"
Howling Giant – "The Pioneer"
Thrown Into Exile – "No Words"
Motorbabe – "Ace of Spades"
Yakuza – "Chicago Typewriter"
Monophonics – "Lying Eyes"
Mother Mercury – "The Maze"
—
Electric Wizard – "See You in Hell"
High on Fire – "Fertile Green"
Godspeed You! Black Emperor – "Rockets Fall on Rocket Falls"
Graveyard – "Please Don't"
The Crazy World of Arthur Brown – "Fire"
Perturbator – "Sentient"
Bad Religion – "American Jesus"
Fu Manchu – "Evil Eye"
Cold Cave – "Love Comes Close"
Yob – "Original Face"
Goatwhore – "Alchemy of the Black Sun Cult"
Nothing – "Zero Day"
Glassjaw – "Cosmopolitan Blood Loss"
Devil Master – "Black Flame Candle"
Ilsa – "Old Maid"
Hangman's Chair – "Dripping Low"
Candy – "Good to Feel"
Led Zeppelin 2 – "Stairway to Heaven"
Electric Citizen – "Light Years Beyond"
Spindrift – "Drifter's Pass"
L.A. Witch – "Get Lost"
Royal Thunder – "April Showers"
—
Misfits – "American Psycho"
Clutch – "Electric Worry"
Carcass – "Unfit for Human Consumption"
Triumph of Death (Hellhammer) – "Triumph of Death"
Old Man Gloom – "The Lash"
The Black Angels – "Evil Things"
The Faint – "Child Asleep"
Mark Lanegan – "Ugly Sunday"
Black Mountain – "Florian Saucer Attack"
The Obsessed – "Sacred"
DVNE – "Thirst"
Tobacco – "Streaker"
Grails – "Invitation to Ruin"
Soft Kill – "Trying Not to Die"
Full of Hell – "Burning Myrrh"
Mork – "I Sluket Av Myra"
Tomb Mold – "Infinite Resurrection"
Led Zeppelin 2 – "Stairway to Heaven"
Monophonics – "Lying Eyes"
Night Horse – "Rollin' On"
Levitation Room – "Warmth of the Sun"
—
Opeth – "The Grand Conjuration"
Beach House – "Wishes"
Uncle Acid – "Melody Lane"
Mogwai – "Batcat"
Kadavar – "Die Baby Die"
Deafheaven – "Honeycomb"
Power Trip – "Executioner's Tax (Swing of the Axe)"
1349 – "Slaves"
Truckfighters – "Desert Cruiser (Live in London)"
Amenra – "A Solitary Reign"
Twin Temple – "Let's Hang Together"
Dead Meadow – "What Needs Must Be"
Have a Nice Life – "Defenestration Song"
Vio-lence – "World in a World"
Warhorse – "I Am Dying"
Andrew W.K. – "Party Hard"
Hell Fire – "Destroyers"
Polyrhythmics – "Spider Wolf"
—
For previous installments of the Big Takeover's Psycho Las Vegas preview series, check out our interviews with:
• Colin H. Van Eeckhout, vocalist for Belgian post-metal purveyors Amenra
• Jason Shi and Scott Key, singer/guitarist and drummer, respectively, for melodic hard-rock masters ASG
• Jay Bentley, founding bassist for politically progressive punk pros Bad Religion
• Stephen McBean, singer/guitarist of long-running psychedelic-rock project Black Mountain
• Jean-Paul Gaster, drummer for "the quintessential American rock band," Clutch
• Greg Meleney, vocalist/guitarist for Portland psych-rock mainstays Danava
• George Clarke, vocalist for shoegaze/black-metal powerhouses Deafheaven
• DJ Painkiller, an L.A.-based metalhead who will be spinning between sets
• Darkest Prince, lead guitarist for black-metal punks Devil Master
• Victor Vicart of Scottish progressive-metal quintet Dvne
• Laura Dolan, vocalist for Cincinnati rock 'n' roll purists Electric Citizen
• Todd Fink, frontman for electro-pop punks the Faint
• Zack Simmons, drummer for blackened death-metal demigods Goatwhore
• Emil Amos, drummer for experimental post-rock band Grails
• Julien Chanut, guitarist for French sludge-doom band Hangman's Chair
• Tony Campos, guitarist and founder of thrash revivalists Hell Fire
• Nashville cosmic-riff connoisseurs Howling Giant
• Gabriel Franco, vocalist/guitarist for gothy post-punks Idle Hands
• Joshy, drummer for crusty death/doom-metal outfit Ilsa
• Johanna Sadonis, vocalist for "heavy magic rock" band Lucifer
• Stuart Braithwaite, founding guitarist/vocalist for beloved post-rock legends Mogwai
• Thomas Eriksen, centrifugal force behind true Norwegian black-metallers Mork
• All-female Motörhead tribute band Motorbabe
• Mikael Åkerfeldt, frontman for Swedish progressive-metal kings Opeth
• Ethan Lee McCarthy, frontman for blackened-doom trio Primitive Man
• Tobias Grave, frontman for shimmering post-rock trio Soft Kill
• Experimental rock, alternative hip-hop and dance music guru Tobacco
• Derrick Vella, guitarist of death-metal arsonists Tomb Mold
• Niklas Källgren, guitarist for Swedish fuzz fanatics Truckfighters
• Los Angeles Satanic doo-wop duo Twin Temple
• Kevin Starrs, frontman of British fuzz royalty Uncle Acid and the deadbeats
• Sean Killian, vocalist for cult-favorite Bay Area thrash band Vio-lence
• Bruce Lamont, frontman for experimental heavy-jazz project Yakuza and Led Zeppelin tribute band Led Zeppelin 2
• Aaron Rieseberg, bassist for Oregon doom-metal dealers Yob
Also, don't miss our special feature in which Deafheaven's Clarke and Mogwai's Braithwaite discuss their mutual affection for each other's bands, whether Deafheaven should play their Mogwai cover at Psycho Las Vegas — and the possibility of a collaboration between the two projects.